Publication:
El modelo factorial de valoración de activos en el mercado europeo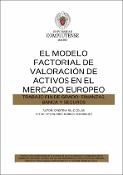 Authors
Advisors (or tutors)
Editors
Abstract
Análisis de los rendimientos de 25 carteras de acciones europeas y comparación de los modelos de valoración CAPM y una variante del modelo de Fama y French de 5 factores. Estimación de los modelos mediante MCO y a través del método recursivo. Este trabajo realiza la contrastación y análisis de una alternativa del modelo de factores de Fama y French en relación con el modelo CAPM. Tomando los datos del mercado europeo de acciones, lo que se pretende es comprobar la capacidad que posee cada uno de estos modelos para explicar correctamente la evolución de los rendimientos de una cartera determinada. Se pretende examinar si la capacidad del modelo factorial para explicar los rendimientos es mejor que la de CAPM, considerando la importancia de otros factores de riesgo adicionales al mercado, como podrían ser el factor de tamaño o el de book-to-market.
Citation
Chavarría Mayorga, J. A., Calle Cancho, V., Medina Díaz de Basurto, E., Otegi Etxabe, J., RioheNchaso, A. C., & Zhang, T. (2013). Estudio comparativo entre el modelo de Fama y French y el modelo de Carhart. Revista Electrónica de Investigación en Ciencias Económicas. French, K. R. (2017). Kenneth R. French. Recuperado el Abril de 2017, de http://mba.tuck.dartmouth.edu/pages/faculty/ken.french/data_library.html . García Jorcano, L. (2016). Mercados de Renta Variable. Estimación y contrastes de sección cruzada. Método Fama-Macbeth. Universidad Complutense de Madrid, Asignatura Análisis de los mercados financieros, Madrid. Hamard Almeida, A. (2007). Valoración de activos en mercados de capitales emergentes latinoamericanos. Universidad Complutense de Madrid, Universidad Autónoma de Madrid, Facultad de Ciencias Económicas y Empresariales, Madrid. Lintner, J. (1965), "The Valuation of Risk Assets and the Selection of Risky Investments in Stock Portfolios and Capital Budgets". Review of Economics and Statistics, 47, pp. 13-37. Markowitz, H. (1959), Portfolio Selecction: Efficient Diversification of Investments, John Wiley, New York. Medarde Muguerza, N. (2014). El modelo de 3 factores de Fama y French aplicado al mercado español. ICADE, Máster Universitario en Finanzas, Madrid. Nieto Domenech, B. (2001). Los modelos multifactoriales de valoración de activos: un análisis empírico comparativo. Universidad de Alicante, Departamento de Economía Financiera, Contabilidad y Marketing. Alicante: Instituto Valenciano de Investigaciones Económicas S.A. Ross, S.A. (1976), "The Arbitrage Theory of Capital Asset Pricing". Journal of Economy Theory, 13, pp. 341-360. Sharpe, W. (1964), "Capital Asset Prices: A Theory of Market Equilibrium under Conditions of Risk". Journal of Finance, 19, pp. 425-442. Uriel Jiménez, E. (2013). El modelo de regresión simple: estimación y propiedades. Universidad de Valencia, Departamento de Econometría, Valencia.