Publication:
Pedro Lombardía. A los treinta años de su muerte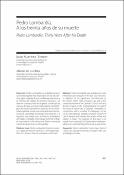 Advisors (or tutors)
Editors
Abstract
Pedro Lombardía fue probablemente el canonista español más importante de los dos últi- mos siglos. Además de sus notables aportaciones a la reforma del Código de Derecho Canónico y al derecho constitucional de la Iglesia, contribuyó de manera decisiva a renovar el panorama metodoló- gico del estudio del derecho canónico en la Univer- sidad española, a crear una red académica interna- cional de canonistas de diversas orientaciones, y a impulsar, casi desde cero, el derecho eclesiástico del Estado en España. Este trabajo pretende reflejar en qué medida la fe cristiana de Pedro Lombardía marcó decisivamente su obra jurídica.
Pedro Lombardía was probably the most influential canon lawyer in the last two centuries. In addition to his significant contributions to the reform of the Code of Canon Law and to the constitutional law of the Catholic Church, he had a decisive impact on the methodological renewal of the study of canon law in Spanish universities; in conjunction with a number of colleagues, he set up an international, pluralist scholarly network of canon lawyers and fostered the studies of law and religion in Spain. The purpose of this paper is to explain how Lombardía's Christian faith is indispen- sable to an understanding of his work as a canonist.
Collections