Publication:
Células natural killer como estrategia terapéutica frente a mieloma múltiple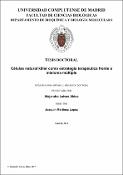 Files
Authors
Advisors (or tutors)
Editors
Publisher
Universidad Complutense de Madrid
Abstract
El mieloma múltiple (MM) se caracteriza por un exceso de células plasmáticas en médula ósea que sintetizan elevadas cantidades de proteína monoclonal. Esto produce destrucción ósea, daño renal e inmunodepresión. Los nuevos fármacos anti-mieloma han mejorado considerablemente el pronóstico de la enfermedad, pero ésta sigue siendo incurable debido a que estos fármacos no destruyen la célula madre de MM, aquélla que muestra resistencia a fármacos y/o potencial proliferativo. Los pacientes con MM presentan una desregulación del sistema inmune que podría encontrarse en la base del desarrollo inicial de la enfermedad. Las terapias más avanzadas frente a MM se centran en la potenciación y estimulación del sistema inmune. Entre ellas, la terapia celular podría producir este efecto ejerciendo una acción citotóxica directa y a su vez estimulando otras células inmunes para producir una respuesta inmunológica mayor. Las células natural killer (NK) son candidatas idóneas para este cometido ya que son capaces de desencadenar una respuesta citotóxica al primer contacto con el antígeno tumoral, pueden activar vías de apoptosis celular y producir citoquinas que activan linfocitos B, T y células dendríticas. Este trabajo ha explorado la posibilidad de activar y expandir ex vivo células NK autólogas de pacientes con MM para evaluar su capacidad citotóxica in vitro, así como su seguridad y eficacia in vivo en el contexto de un ensayo clínico...
Multiple myeloma (MM) is characterized by an excess of plasma cells in bone marrow that synthesize high amounts of monoclonal protein. This causes bone destruction, kidney damage, and immunosuppression. New anti-myeloma drugs have greatly improved the prognosis of the disease, but it remains an incurable disease because these drugs do not destroy the MM stem cell, which shows drug resistance and/or proliferative potential. Patients with MM have a dysregulation of the immune system that may be at the basis of the initial development of the disease. The most advanced therapies against MM are focussed on the enhancement and stimulation of the immune system. Among them, cell therapy could produce this effect by exerting a direct cytotoxic action and in turn stimulating other immune cells to produce a greater immunological response. Natural killer (NK) cells are suitable candidates for this task as they are able to trigger a cytotoxic response at the first contact with the tumor antigen, they can activate cell apoptosis pathways and produce cytokines that activate B cells, T cells and dendritic cells. This work has explored the possibility of ex vivo activation and expansion of autologous NK cells from MM patients to evaluate their in vitro cytotoxicity as well as their safety and efficacy in vivo in the context of a clinical trial...
Description
Tesis doctoral de la Universidad Complutense de Madrid, Facultad de, Departamento de Bioquímica y Biología Molecular I leída el 30 de Mayo de 2017
Collections