Publication:
Evaluación de competencias del enfermero especialista de cuidados médico-quirúrgicos, utilizando la escala ECOenf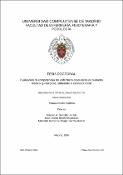 Files
Authors
Advisors (or tutors)
Beneit Montesinos, Juan Vicente
Editors
Publisher
Universidad Complutense de Madrid
Abstract
El Consejo Internacional de Enfermería (CIE), define la enfermera de práctica avanzada, como; "una enfermera registrada que ha adquirido una base de conocimientos expertos, capacidades para la toma de decisiones complejas y competencias clínicas para la práctica ampliada cuyas características están modeladas por el contexto y/o el país en el que tiene acreditación para ejercer"(1). En España el Real Decreto 639/2014, de 25 de julio, por el que se regula la troncalidad, la reespecialización troncal y las áreas de capacitación específica, se establecen las normas aplicables a las pruebas anuales de acceso a plazas de formación y otros aspectos del sistema de formación sanitaria especializada en Ciencias de la Salud y se crean y modifican determinados títulos de especialista(2), en su anexo 1 sobre relación de especialidades en Ciencias de la Salud por el sistema de residencia, en el punto 4 recoge las especialidad de enfermería entre las que se encuentra la de enfermería de cuidados médio-quirúrgicos. De las siete especialidades recogidas en este Real Decreto, seis tienen aprobado su programa formativo, mientras que la de cuidados médicoquirúrgicos tiene pendiente su publicación...
The International Council of Nurses (ICN) defines an advanced practice nurse as: "A registered nurse who has acquired an expert knowledge base, complex decision-making skills and clinical competencies for expanded practice, the characteristics of which are shaped by the context and/or country in which he/she is credentialed to practice" (1). In Spain, Royal Decree 639/2014 of 25 July that regulates core subjects, re-specialization of core subjects programs and specific training sets out the rules applicable to the annual examinations concerning the access to training practice posts and other aspects of the specialized health care training system. Moreover, certain specialist titles (2) are created or modified in Annex 1 that concerns relations among the specialties in Health science according to the "residency system". Point 4of the Annex lists the nursing specialties where surgical nursing is included. Out of the seven specialties included in the Royal Decree, six have their training programs approved. However, the surgical nursing specialty has its publication pending. There is currently a proposal at the Ministry of Health, Equality and Social Policy...
Description
Tesis de la Universidad Complutense de Madrid, Facultad de Enfermería, Fisioterpia y Podología, Departamento de Enfermería, leída el 17-12-2015