Publication:
Creación automática de equipos de salas de escape basada en el estilo de juego de los jugadores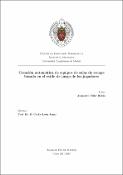 Authors
Advisors (or tutors)
Editors
Abstract
Los sistemas de creación de equipos en videojuegos (matchmaking) generalmente se centran en agrupar jugadores con habilidades similares en base su desempeño en partidas anteriores. Los objetivos específicos de los videojuegos en los que la condición de ganar está clara y específicamente definida por su diseño hacen que este enfoque sea eficaz. Sin embargo, este planteamiento puede no ser el correcto cuando el objetivo principal no es sólo ganar, sino también obtener algún otro tipo de recompensa, u objetivo, como el comportamiento creativo, el disfrute o la socialización con otros jugadores. En los juegos de salas de escape, por ejemplo, la comunicación entre los jugadores es muy necesaria. Este aspecto social del ser humano también se encuentra presente en los videojuegos, donde los perfiles psicológicos adquieren una importancia comparable a la habilidad del jugador. En este trabajo se describe un sistema automático para emparejar usuarios teniendo en cuenta unos estilos de juegos derivados de los modelos psicológicos, orientado a las salas de escape. Se proporciona una implementación del sistema, junto a una evaluación y los resultados. Los resultados preliminares sugieren que el enfoque es potencialmente eficaz.
Automatic player matchmaking in video games is usually focused on grouping players with similar skills based on their performance in previous games. The clear objectives of video games in which the winning condition is clear and specifically defined by their design make this approach effective. However, this approach may not be correct when the main objective is not only winning, but also obtaining some other kind of reward, or goals, like creative behaviour, enjoyment, socialization with other players. In escape rooms, for example, communication between players is very necessary. This social aspect of the human being is also present in videogames, where psychological profiles take on as similar importance as player ability. This work describes an automatic system to match users that takes into account the players' play styles derived from psychological models, oriented towards escape rooms. An implementation of the system, along with evaluation and results are provided. Preliminary results suggest that the approach is potentially effective.
Description
Trabajo de Fin de Máster en en Ingeniería Informática, Facultad de Informática UCM, Departamento de Ingeniería del Software e Inteligencia Artificial, Curso 2021/2022.