Publication:
Identidad, imagen y cultura corporativas del club Atlético de Madrid a través de la información periodística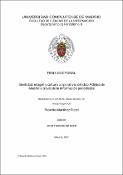 Files
Authors
Advisors (or tutors)
Editors
Publisher
Universidad Complutense de Madrid
Abstract
El presente trabajo de investigación tiene como finalidad ofrecer una visión de la identidad corporativa del Atlético de Madrid. Para ello, partimos de conceptos que ayudan a realizar una aproximación teórica de elementos que son desarrollados a lo largo del proyecto. Se subrayan ideas relacionadas con los procesos de comunicación destinados a crear valor en las empresas, así como una exposición sobre el periodismo especializado, hasta llegar a analizar la historia del club para sentar las bases desde donde partir. Conocer la trayectoria de la entidad facilita la comprensión de sus rasgos más característicos que influyen en su comportamiento y en la de sus aficionados, así como en el punto de vista que ofrecen los medios de comunicación a través de sus informaciones. Todos estos acontecimientos que han afectado al Atlético de Madrid en sus 112 años de bagaje han propiciado que se haya creado una cultura corporativa, compuesta por una serie de matices que los simpatizantes del conjunto colchonero tienen interiorizados y que se reflejan en la imagen que proyecta la propia institución. Se ha realizado una descripción de las características básicas de la información deportiva, en términos históricos y su evolución en España, que localizan la especialidad futbolística dentro del contexto informativo al que pertenece, desde la óptica más general (la información deportiva) hasta la más concreta (la información sobre el Atlético de Madrid)...
The present research paper has as its main purpose to offer a view of the identity, the image and the corporate culture of Atlético de Madrid. To that end, we start from concepts that help achieve a theoretical approximation of the elements that are developed throughout the project. The ideas related to the communication processes assigned to create value in corporations are highlighted, just as well as a statement about specialized journalism, until reaching to analyze the history of the club, in order to set the basis from which begin. To have knowledge of the history of the entity makes it easier to understand its principal traits and characteristics, which have had a significant influence on its own behavior and also on its supporters. The point of view that the sports club offers to the Media throughout its information has also been shaped by these traits. All these features that have affected Atlético de Madrid through its 112 years of life have contributed to create a corporative culture formed by several aspects that the fans of the team have embraced and that are reflected on the appearance that the institution shows. A description of the basic traits of sports information, in historical terms and concerning its evolution in Spain, has been made. These characteristics set the football specialization within the informative context to which it belongs; from the most general point of view (the sports information) to the most specific (information about Atlético de Madrid)...
Description
Tesis inédita de la Universidad Complutense de Madrid, Facultad de Ciencias de la Información, Departamento de Periodismo I, leída el 13-01-2016
Collections