Publication:
Caracterización y modelización metalogenética del yacimiento de Zn-Pb-Ag de Patricia (Proyecto Paguanta, NE Chile)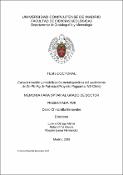 Files
Authors
Editors
Publisher
Universidad Complutense de Madrid
Abstract
The Patricia deposit is a Zn-Pb-Ag polymetallic mineralization located in northeastern Chile, on theborder between the Precordillera and the Western Cordillera of the Andes. The deposit forms part ofthe Paguanta Mining Project which includes two other prospects called Doris and La Rosa. This PhDThesis represent the first scientific study of this deposit and its objective is to characterize, from amineralogical, geochemical and structural point of view, the mineralization of Patricia, to establish ametallogenic model that explains its formation within the regional geodynamic context.In order to achieve the objectives, two field campaigns of one month length each were developed,carrying out an exhaustive lithologic and structural study of the area. This study allowed theelaboration of a geological map, both of the Paguanta Mining Project (1:500), and the mineralizationof the Patricia area (1:100). In addition, it was conducted a representative sampling of the differenttypes of mineralization and lithological units located in the Project area. The techniques used for thesamples study were: optical microscopy of transmitted and reflected light, whole-rock geochemistry,X-ray diffraction, SEM, EPMA, fluid inclusions microthermometry, Raman spectroscopy, LA-ICPMS,stable isotopic analysis of S, Pb, O y H, and U/Pb geochronology.The Patricia mineralization shows a strong structural control, occurring in the form of a system ofsubvertical veins with E-W orientations and embedded in a volcano-sedimentary unit which is mainlyconsisting by breccias and andesitic tuffs with an age of 75 ± 2 Ma (Campanian). Based on structuralcriteria such as vein orientation, presence of sinistral strike-slip faults and sigmoidal structures, it hasbeen concluded that the mineralized veins of Patricia are the result of the progressive deformation of ablock formed between two sinistral strike-slip faults with WNW-ESE orientations. This blockprobably could be part of a pull-apart structure on a larger scale and it could be genetically related tothe Domeyko fault system...
El yacimiento de Patricia es una mineralización polimetálica de sulfuros de Zn-Pb-Ag, localizada en elnoreste de Chile, en el límite entre la Precordillera y la Cordillera Occidental de los Andes. Elyacimiento forma parte del Proyecto Minero Paguanta, constituido por otros dos prospectos llamadosDoris y La Rosa. La presente Tesis Doctoral representa el primer trabajo científico realizado en esteyacimiento y tiene como objetivo caracterizar desde un punto de vista mineralógico, geoquímico yestructural la mineralización de Patricia para establecer un modelo metalogénico que explique suformación dentro del contexto geodinámico regional.Para la consecución de los objetivos, se desarrollaron dos campañas de campo de un mes de duracióncada una, llevándose a cabo un exhaustivo estudio litológico y estructural del área de estudio quepermitió la elaboración de un mapa geológico, tanto del área del Proyecto Minero Paguanta (1:500),como de la propia mineralización de Patricia (1:100). Además se realizó un muestreo representativo delos diferentes tipos de mineralización y de las unidades litológicas presentes en el Proyecto. Lastécnicas empleadas para su estudio han sido: microscopia óptica de luz transmitida y reflejada,geoquímica de roca total, difracción de rayos X, SEM, EPMA, microtermometría de inclusionesfluidas, espectroscopía Raman, LA-ICP-MS, análisis isotópicos de S, Pb, O y H, y geocronologíaU/Pb.La mineralización de Patricia presenta un fuerte control estructural, apareciendo en forma de unsistema de vetas subverticales de orientación E-O encajadas en una unidad volcano-sedimentariaconstituida fundamentalmente por brechas y tobas andesíticas de edad 75 ± 2 Ma (Campaniense). Apartir de criterios estructurales como la orientación de las vetas, presencia de fallas de desgarresinestrales, estructuras sigmoidales, etc, se ha concluido que la estructura que muestran las vetasmineralizadas de Patricia es el resultado de la deformación progresiva de un bloque formado entre dosfallas de desgarre sinestrales de orientación ONO-ESE. A su vez, este bloque pudiera ser parte de unaestructura de pull-apart a mayor escala y estar en relación genética con el sistema de fallas deDomeyko...
Description
Tesis presentada en la Universidad Complutense de Madrid, Facultad de Ciencias Geológicas, Departamento de Cristalografía y Mineralogía, leída el 12-05-2017
Collections