Publication:
Análisis del coste-efectividad y coste-utilidad del tratamiento cognitivo-conductual de los desórdenes emocionales en atención primaria frente a tratamiento convencional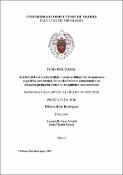 Files
Authors
Editors
Publisher
Universidad Complutense de Madrid
Abstract
Los trastornos emocionales de tipo ansioso, depresivo o somatomorfo son los trastornos mentales más prevalentes en Atención Primaria (AP) en España y causan importantes costes económicos tanto directos como indirectos, así como una disminución de la calidad de vida. Los tratamientos habituales aplicados en AP para el manejo de dichos trastornos no se ajustan a los recomendados en las guías de práctica clínica más importantes.Objetivo. Los objetivos de este estudio se centran en analizar las relaciones de coste-efectividad y coste-utilidad de un tratamiento psicológico cognitivo-conductual transdiagnóstico grupal, frente al tratamiento habitual de AP, para el tratamiento de los trastornos emocionales. Además, se analiza la evolución de estas ratios al cabo de 6 y 12 meses después del tratamiento...
The most common mental disorders in the primary care (PC) setting in Spain are emotional disorders (ED) such as anxiety, depression and somatoform disorder. The costs—both direct and indirect—associated with these disorders are high. Moreover, ED can substantially decrease quality of life. Regrettably, the treatment that is routinely applied in the PC setting to manage ED frequently does not adhere to clinical practice guidelines.Aims: To analyze and compare the cost-effectiveness and cost-utility of transdiagnostic group cognitive behavioral therapy versus treatment-as-usual (TAU) for ED in the PC setting in Spain (the PsicAP randomized controlled trial). A second aim was to evaluate changes in these two ratios at 6- and 12-month follow-ups...
Description
Tesis inédita de la Universidad Complutense de Madrid, Facultad de Psicología, leída el 16-07-2019
Collections