Publication:
Estudio y caracterización de sistemas solares térmicos semiesféricos de nueva generación (Study and characterization of new generation semispherical thermal collectors)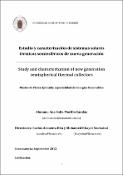 Authors
Editors
Abstract
En este trabajo se ha llevado a cabo un análisis de un captador de geometría semiesférica con el fin de determinar el factor de interceptación de la irradiancia solar sobre una superficie de geometría curva y discontinua. Este factor de interceptación es fundamental a la hora de poder desarrollar un algoritmo que permita obtener la ecuación para el rendimiento de captadores de geometría esférica, dado que las expresiones existentes son únicamente válidas para captadores planos. Este ha sido uno de los objetivos fundamentales del trabajo y constituye la aportación más novedosa al conocimiento dentro del campo de la energía solar térmica. Complementariamente, el desarrollo del trabajo ha perseguido la caracterización de captadores solares térmicos de geometría semiesférica desde el punto de vista de su comportamiento térmico, por medio de su curva de rendimiento. El análisis de los resultados obtenidos a partir de dicha curva ha permitido determinar algunos de los parámetros más característicos de este tipo de captadores, como son su eficiencia óptica y su coeficiente global de pérdidas. Los valores obtenidos han mostrado buena concordancia con los valores teóricos, a partir de las propiedades de los materiales utilizados, y han permitido verificar los errores de cálculo que se producen cuando se emplea la ecuación convencional del rendimiento para captadores planos en este tipo de geometrías. [ABSTRACT] This work has been aimed at developing the analysis of semi-spherical solar thermal collectors, with the goal of determining the interception factor of solar radiation onto a discontinuous surface of semi-spherical geometry. This factor is essential to develop the appropriate algorithm to obtain the efficiency curve for semi-spherical solar collectors, so the existing one is only valid for flat plate collectors. This has been one of the main goals of the work and it represents the most valuable contribution to the knowledge in the solar energy thermal field. Additionally, the work has pursued the characterization of semi-spherical solar collectors as for their thermal performance, using the efficiency curve. The analysis of the experimental results has allowed determining the optical efficiency and thermal losses coefficient of this type of collectors. The so obtained values have resulted in close agreement with theoretical ones, from the physical properties of the used materials, also showing the errors in the calculations when the flat plate collectors efficiency curve is used.
Description
Máster de Física Aplicada. Facultad de Ciencias Físicas. Curso 2011-2012
Citation
[1] Solar engineering of thermal processes John A. Duffie, William A. Beckman. Third Edition. Ed John Wiley & Sons. [2] Estudio y caracterización de un captador de simetría esférica para producción de ACS por Energía Solar. Trabajo Fin de Máster en Física Aplicada, UCM. Ignacio Santos Gallego. [3] Estudio y caracterización óptica de la irradiancia solar sobre captadores solares esféricos. Trabajo Fin de Máster en Física Aplicada, UCM. Leticia Bragado Alonso. [4] Applied solar energy. An introduction. Aden B. Meinel, Marjorie R. Meinel. Ed. Addion-Wesley. [5] Principles of solar engineering. Yogi Goswami, Franck Kreith, Jan F. Kreider. Second edition. Ed. Taylor & Francis. [6] Solar Collectors. Test Methods and Design Guidelines. Solar Energy R&D in the European Community, Series A Volume 6. D. Reidel Publishing Company.