Publication:
Análisis molecular del gen longitudinals lacking en Drosophila melanogaster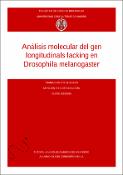 Authors
Advisors (or tutors)
Editors
Abstract
El gen longitudinals lacking (lola) desempeña un importante papel en el desarrollo del sistema nervioso de Drosophila melanogaster. Se ha comprobado su implicación en un elevado número de procesos relacionados con el crecimiento y la orientación de los axones. En el presente trabajo se realizó un análisis molecular de lola en D. melanogaster; para ello, se localizó el punto exacto de una inserción de un elemento P modificado (PlacW) que caracteriza la línea 5D2, y se observó la expresión espacio-temporal del gen durante el desarrollo embrionario de la línea silvestre por hibridación in situ. La inserción de PlacW se encontró localizada en un intrón de lola. Dicha inserción, pese a localizarse en DNA no codificante, podría afectar a los procesos de splicing del gen, lo que produciría el fenotipo mutante. Se observó la expresión espacio-temporal de lola durante diferentes estadios embrionarios en el SNC y SNP y, además, se pudo observar mRNA de lola de origen materno en estadios muy tempranos del desarrollo.
Longitudinals lacking (lola) gene has an important role in the Drosophila melanogaster nervous system development. Also, it has been shown that this gene participate in multiple axon growth and guidance decisions. In the study, we performed a molecular analysis of lola in D. melanogaster. To this end, we identificated the exact location of a modified P element (PlacW) insertion that characterizes the 5D2 allele. Further, we analyzed the spatiotemporal expression of the gen during the embryonic development of the wild type by in situ hybridization. PlacW insertion was found in a lola intron and, in spite of being located in noncoding DNA, it could affect splicing processes, producing a mutant phenotype. We studied the lola spatiotemporal expression during different embryonic stages in the CNS and PNS and the maternal mRNA of lola in early stages of development.
Description
Mención en Biotecnología Curso 2015/2016