Publication:
Quirópteros fósiles del Aragoniense medio de Casetón (Teruel, España)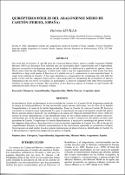 Authors
Advisors (or tutors)
Editors
Publisher
Museo Nacional de Ciencias Naturales: Sociedad Española de Paleontología
Abstract
Se describen los fósiles de Quirópteros de las localidades de Casetón IA Y Casetón 2B del Aragoniense medio de la cuenca de Calatayud-Daroca. Se han reconocido cuatro taxones diferentes, tres de ellos de la familia Vespertilionidae y el cuarto de la familia Hipposideridae. Tanto en Casetón 1A como en Casetón 2B, Eptesicus noctuloides es la especie mejor representada. Le sigue en importancia una especie de pequeño tamaño del género Myotis, próxima desde el punto de vista morfológico a la especie del Oligoceno terminal Myotis minoro Entre los taxones de menor representación, se han identificado restos de otra especie perteneciente al género Eptesicus, caracterizados por ser de talla grande, igualo incluso superior a la de E. campanensis. Por último, un único resto procedente de Casetón I A representa a la familia Hipposideridae, y encaja en la morfología del género Asellia y del subgénero Hipposideros (Brachipposideros). Las asociaciones regi stradas en Casetón lA y 2B, en las que los vespertiliónidos dominan, no difieren sustancialmente de las asociaciones registradas en yacimientos europeos fluvio-Iacustres de edad similar. Las dos especies pertenecientes al género Eptesicus identificadas en Casetón 1A Y 2B constituyen el registro más antiguo de este género en España. [ABSTRACT] The fossil bats of Casetón lA and 2B from the Calatayud-Daroca Basin, dated as middle Aragonian (Middle Miocene, MN5) are described. Four different taxa are represented; three vespertilionids and a hipposiderid. Eptesicus nocruloides is the dominant species in both localities. lt is followed by a small Myotis species, close to Myotis minor from the late Oligocene. A third taxon, with a very low representation at both levels, has been identified as a large sized species of Eptesicus, of a simi lar size as E. campanensis or even somewhat larger. A single fossil collected at Casetón I A has been identified as a hipposiderid. Its morphology fits with both the genus Asellia and the subgenus Hipposideros (Brachipposideros). Regarding the association of species represented at the two levels in Casetón, no particularity is observed compared with other fluvio-Iacustrine localities of similar age in Europe. The occurrence of two Eptesicus species at Casetón lA and Casetón 2B represents the oldest record of this genus in Spain.
Collections