Publication:
Caracterización de las alteraciones genéticas de riesgo alto en los síndromes mielodisplásicos : la transformación leucémica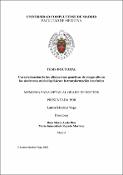 Files
Authors
Advisors (or tutors)
Rapado Martínez, María Inmaculada
Editors
Publisher
Universidad Complutense de Madrid
Abstract
Los síndromes mielodisplásicos (SMD) constituyen un amplio y heterogéneo grupo de desórdenes hematopoyéticos crónicos que presentan un fenotipo tumoral caracterizado por clonalidad y displasia de los tres linajes mieloide. Esto conlleva a una hematopoyesis ineficaz que causa hipercelularidad de la médula ósea y citopenia en sangre periférica. Alrededor de un 30-40% de los SMD progresan a leucemia mieloide aguda debido a la adquisición de diferentes mutaciones y selección de clones. La IPSS-R clasifica los SMD en cinco grupos de riesgo (muy bajo, bajo, intermedio, alto y muy alto).Aproximadamente el 80% de los pacientes con SMD presentan alteraciones en el ADN. Se han descrito más de 40 genes mutados de forma recurrente en esta patología. Algunas de las mutaciones más frecuentes tienen lugar en genes que codifican a factores de transcripción (TP53, RUNX1, ETV6), reguladores epigenéticos (TET2, DNMT3A, ASXL1, EZH2, IDH1/2), factores de splicing o procesadores de ARNm (SF3B1, SRSF2, U2AF1, ZRSR2) y proteínas de señalización celular (NRAS, CBL, JAK2, SETBP1). Varias alteraciones han sido descritas como marcadores moleculares con valor pronóstico de manera independiente para esta enfermedad. Sin embargo, aún se desconoce el motivo de por qué algunos síndromes mielodisplásicos presentan una mayor tendencia a la transformación leucémica pese a no presentar cariotipo complejo o mutaciones de mal pronóstico...
Myelodysplastic syndromes (MDS) constitute a large and heterogeneous group of chronic hematopoietic disorders that present a tumor phenotype characterized by clonality and dysplasia of the myeloid, erythroid and megakaryocytic lineages. This leads to ineffective hematopoiesis causing bone marrow hypercellularity and peripheral blood cytopenia.Around 30-40% of MDS progress to acute myeloid leukemia due to the acquisition of different mutations and selection of clones. The IPSS-R classifies MDS into five risk groups ( very low, low, intermediate, high and very high).Approximately 80% of patients with MDS have DNA alterations. More than 40 recurrently mutated genes have been described in this pathology. Some of the most frequent mutations occur in genes encoding transcription factors (TP53, RUNX1, ETV6), epigenetic regulators (TET2, DNMT3A, ASXL1, EZH2, IDH1 / 2), splicing factors or mRNA processors (SF3B1, SRSF2, U2AF1, ZRSR2) and cell signaling proteins (NRAS, CBL, JAK2, SETBP1). Several alterations have been described as molecular markers with independent prognostic value for this disease. However, the reason why some myelodysplastic syndromes show a greater tendency to leukemic transformation is still unknown despite not presenting complex karyotypes or mutations with a poor prognosis...
Description
Tesis inédita de la Universidad Complutense de Madrid, Facultad de Medicina, leída el 24-02-2022
Collections