Publication:
Evaluación del comportamiento clínico de coronas de recubrimiento total en sectores posteriores con el sistema lava tm de 3M-Espe a 5 años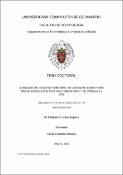 Files
Authors
Advisors (or tutors)
Editors
Publisher
Universidad Complutense de Madrid
Abstract
La rehabilitación oral ofrece actualmente grandes beneficios a quienes requieren algún tipo de incrustación o corona completa ya que no sólo se recupera estética si no función y se evitan patologías posteriores. Uno de los grandes inconvenientes en esta es el conseguir una estética perfecta, puesto que cuando se utilizan coronas metal-porcelana convencionales con frecuencia hay una clara diferencia entre un diente restaurado y uno natural. Con los grandes avances en los nuevos materiales estéticos, en los sistemas CAD-CAM y la introducción de agentes cementantes con alguna capacidad de adhesión, las restauraciones metal-porcelana se podrían ir reemplazando por restauraciones totalmente cerámicas. El presente estudio comparativo descriptivo pretende aumentar los conocimientos acerca de la fiabilidad y el desempeño clínico del sistema Lava™ en la construcción de coronas completas en sectores posteriores superiores e inferiores...
Oral rehabilitation currently offers great benefits to those who require some type of restoration such as a full crown, because not only aesthetic function is recovered but also subsequent pathologies are avoided. One of the major drawbacks in this area of knowledge is obtaining perfect aesthetics, because when conventional PFM crowns are used it is frequently evident that there is a clear difference between a restored and a natural tooth. With important advances in new aesthetic materials involving CAD-CAM systems and the introduction of cementing agents with a capacity for adhesion, metal-porcelain restorations will be replaced by ceramic restorations. This descriptive comparative study aims to increase knowledge about the reliability and clinical performance of the Lava system in the construction of full crowns in upper and lower posterior sectors...
Description
Tesis inédita de la Universidad Complutense de Madrid de la Facultad de Odontología del Departamento de Estomatología I (Prótesis Bucofacial), leída el 28-01-2016
Collections