Publication:
La zona de cizalla de Berzosa-Riaza en el sector septentrional. Influencia sobre la configuración de las zonas metamórficas.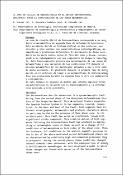 Advisors (or tutors)
Editors
Publisher
Seminario de Estudos Galegos. Area de Xeoloxía e Minería ; Instituto Universitario de Xeoloxía "Isidro Parga Pondal"
Abstract
La zona de cizalla dúctil de Berzosa-Riaza corresponde a un accidente sinmetamórfico de segunda fase de deformación hercínica. Este accidente divide al Sistema Central en dos sectores, uno oriental y otro central con características estratigráficas, metamórficas y plutónicas diferentes. El movimiento de dicho accidente en la parte norte, entre el Pico del Lobo y Riaza, corresponde a un cabalgamiento con una componente de desgarre importante. Este funcionamiento provoca una aproximación de las zonas de metamorfismo y una variación de las condiciones p/T durante el proceso metamórfico de los materiales situados a uno y otro lado de dicho accidente. El gradiente durante la primera fase de deformación en el alóctono da lugar a un metamorfismo de distena-almandino que evoluciona durante la segunda fase a otro con andalucita y sillimanita. En este trabajo se propone un modelo que intenta explicar estas características en relación con el funcionamiento y la deformación asociada a este accidente.
The Berzosa-Riaza ductile shear-zone is a syn-metamorphic fault dating from the second phase of the Hercynian deformational history of the Hesperian Massif. This structural feature separates the Spanish Central System in to two segments, located, respectivel, to the West and East of the fault. Both segments bear different stratigraphie, metamorphic and plutonic characters which, in part, may be due to the presence of this shear zone. In its northern part, this fault has aeted as overthrust, though with significant strike component. This relative motion of both segments folloving the Berzosa-Riaza fault has produced au approaching of metamorphic zones in them, as well as a change of P-T conditions of metamorphism on both sides of the shear zone. Thus, for instance, P-T conditions in the western segment, previous to the in set of the above mentioned second deformational phase, were characterized by relatively high environmental pressures (Kyanite-Garnet). During the second phase, these conditions changed (moved) towards lower pressures, with the superposition of Andalusite-Sillimanite assemblages. We have developed a model in which these changes are linked with operation of the Berzosa-Riaza shear zone.
Collections