Publication:
El retorno a Domenico Scarlatti: una mirada al pasado desde la música española (1880-1939)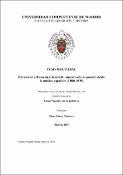 Files
Authors
Advisors (or tutors)
Editors
Publisher
Universidad Complutense de Madrid
Abstract
La presente investigación, El retorno a Domenico Scarlatti: una mirada al pasado desde la música española (1880-1939), cubre el vacío historiográfico existente respecto a cómo se desarrolló la recuperación del músico de origen napolitano en el contexto español desde diversos ámbitos. El proceso de retorno, desarrollado paulatinamente a lo largo de medio siglo, se produjo a través de tres campos de estudio correspondientes a los tres bloques en los que hemos estructurado este trabajo: la construcción del pensamiento en torno a la figura de Scarlatti en España y Europa, el redescubrimiento del compositor en España desde mediados del siglo XIX hasta la mitad del siglo XX y las nuevas creaciones inspiradas en su obra. Aunque nuestro estudio está centrado exclusivamente en el retorno a Scarlatti acontecido dentro del contexto español, como queda demostrado en el primer capítulo, este proceso no resultó ser un hecho aislado, sino que se encuentra inserto en los movimientos de revival desarrollados en la Europa del siglo XIX. Establecida la panorámica general europea, continuamos el estudio centrándonos en las líneas teóricas instauradas en España. Felipe Pedrell, gran defensor de la tradición y el nacionalismo, será el nexo de unión entre la literatura scarlattiana publicada en el resto de Europa y los inicios de los escritos españoles sobre Scarlatti desde la década de los 80 del siglo XIX. La escuela de Pedrell continuada por Mitjana, López-Chávarri y, un joven Adolfo Salazar, defendieron lo autóctono y la creación de una identidad nacional. Para ellos, la tradición española de tecla estaba representada, principalmente, por la escuela de órgano de Cabezón y por la figura del padre Antonio Soler; por tanto, Scarlatti no tenía cabida dentro de este escenario. A medida que avanzaba el siglo y paralelamente a los escritos sobre el músico napolitano, se incrementaron los conciertos en los que se interpretaba su obra, consiguiendo su cota más alta en 1917; la vuelta sonora de Scarlatti era un hecho irrefutable. Junto a ella, la idea de Nin de reivindicar al compositor para España acompañada de la proyección que le dio Manuel de Falla bastaron para que el rumbo de la música española se tornara llevando a Domenico Scarlatti a la consecución de su Edad de Plata...
This research, Domenico Scarlatti's return: a look back from the Spanish music (1880-1939), covers the existing gap regarding how historiographical recovery of Neapolitan musician took place in the Spanish context from different points of view. The return process gradually developed over half a century, it occurred through three fields of study for the three blocks in which we have structured this work: the construction of Scarlatti thought in Spain and Europe, the rediscovery of the composer in Spain since the mid-nineteenth century to the mid-twentieth century and the new creations around the work of Scarlatti. Although our study is focused exclusively on the return to Scarlatti occurring within the Spanish context, as demonstrated in the first chapter, this process was not an isolated event but is inserted in developed revival movements in nineteenth-century Europe. Established European overview, we continue the study focusing on the theoretical ways put in place in Spain. Felipe Pedrell, great defender of tradition and nationalism, will be the link between the Scarlattian literature published in the rest of Europe and the early Spanish writings on Scarlatti from the 80s of the nineteenth century. Pedrell's school continued by Mitjana, Lopez-Chavarri and a young Adolfo Salazar, defended the native and the creation of a national identity. For them, the Spanish keyboard tradition was represented mainly by Cabezon's organ school and the figure of Fray Antonio Soler; Scarlatti had no place in this scene. As the century progressed and concurrent to the writings about the Neapolitan musician, the performances in which his work was interpreted increased, achieving its highest level in 1917; the return of Scarlatti's sound was an irrefutable fact. In conjunction, Nin's idea of claiming the composer for Spain accompanied by the projection given by Manuel de Falla turned the course of Spanish music and leading to Domenico Scarlatti to achieve their Silver Age. The rejection or defense of Scarlatti as a Spanish musician were essentially the two lines of thought prevalent in the Hispanic context. But the musical history of Spain was also studied regardless of ideology offering an overview of what happened as well evidenced by the writings of José Subirá. In addition, we also have seen other authors such as Miguel Salvador, Rogelio Villar and Julio Gómez who represent another way of Spanish music outside the Scarlattian recovery. Finally, we completed addressing the writings of foreign authors −Jean Aubry, Gilbert Chase, John Brande Trend and Henri Collet− who were interested in returning to the Spanish Scarlattian recovery. Overall, the vision of these Hispansits followed the trail marked by Nin and even extended a dual nationality for the musician...
Description
Tesis inédita de la Universidad Complutense de Madrid, Facultad de Geografía e Historia, leída el 21-10-2016
Collections