Publication:
El inox-color en la evolución de las vanguardias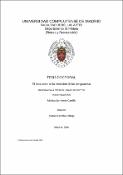 Files
Authors
Advisors (or tutors)
Editors
Publisher
Universidad Complutense de Madrid
Abstract
La presente investigación pretende exponer el conocimiento del arte, la necesidad de adentrase en el estudio del hierro (metal) en acero inoxidable (material), su rol en las innovaciones de las vanguardias artísticas, su posterior desarrollo en la industria y la tecnología, hasta conseguir que el acero entre en la dinámica del color, Inox-color. Para llevar a cabo este estudio teórico y de campo, se realizó el análisis "in situ", además de las entrevistas a artistas, críticos de arte, galeristas, etc., así como la asistencia a centros de arte en Estados Unidos, Ecuador, España, Francia, Italia y Corea del Sur. Como resultado del estudio minucioso se pudo conocer que el acero inoxidable ha estado sujeto a la aleación con color desde el año 1972, lo que ha permitido la expresión en el arte, la arquitectura, el diseño y sus manifestaciones artísticas de vanguardia. Actualmente, la versatilidad del Inox-color es aprovechada en el Dimensionalismo, movimiento artístico que busca la redefinición del concepto de la dimensión a través del color. El referido trabajo así como las fuentes de información citadas investigan sobre el acero inoxidable y sus múltiples posibilidades dentro del ámbito artístico...
This research examines stainless steel from its origin, composition, uses and, through the inox process to color stainless steel. This process was developed in 1972 and its use in art, pioneered by the artist Estuardo Maldonado. In 2012 stainless steel celebrated 100 years since its initial development. Stainless steel, developed in 1912, is an iron alloy of chromium that is corrosion and temperature resistant. Resistance to corrosion is due to a thin 'passive and protective' chromium-oxide film on the surface of the metal. Ordinary steel corrodes forming an 'active' brown iron oxide on the surface when exposed to moisture. This corrosion accelerates by forming more iron oxide and will eventually corrode the entire piece of steel. But with stainless steel, the thin invisible oxide on the surface resists corrosion by blocking oxygen diffusion beyond the surface. This study demonstrates stainless steel's features, uses and importance in industries of architecture, industry, science, technology, design and art. The discovery of stainless steel at the beginning of the twentieth century, and its constant development, coupled with technological and industrial progress ultimately leads to its use in art. To perform the initial analysis of the path of stainless steel, I will make a critical and systematic review of the literature on stainless steel with attention to key concepts and patterns to increase the understanding of the relationship and development of stainless steel in various creative disciplines...
Description
Tesis inédita de la Universidad Complutense de Madrid, Facultad de Bellas Artes, Departamento de Pintura, leída el 5-02-2016
Collections