Publication:
Manipulating photonic signals by a multipurpose quantum junction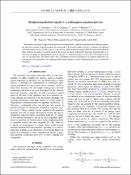 Advisors (or tutors)
Editors
Abstract
We address a prototype integrated quantum circuit model system: a multifunctional quantum junction comprising three-level atomic nodes that couple two waveguides. We consider nodes with the A scheme of the allowed optical transitions, one of which is driven by an external classical electromagnetic field. We demonstrate that the latter field can be used to control the mode of the device operation: studying the dynamics of optical pulses, we show that the proposed integrated junction can operate as a controlled router or a switch, a 1/4 splitter, a delay line, or a storage node. The system offers also a possibility of intrinsic parallelism of quantum operations and can provide useful guidelines for making possible future quantum circuitry building blocks more scalable and integrated.
Description
©2022 American Physical Society Work in Madrid was supported by MINECO Grant No.MAT2016-75955. M.A. and P.A. acknowledge financial support from DGIIP UTFSM and ANID FONDECYT Grants No. 1180914 and No. 1201876. M.A. also acknowledges support from ANID Doctorado Nacional through Grant No. 21141185 and J. F. Marín for fruitful discussions. A.M. is grateful to V. A. Malyshev for critical discussions.
Collections