Publication:
El drama como ideología: el teatro chileno de Acevedo Hernández a Guillermo Calderón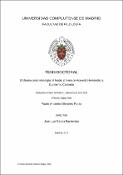 Files
Authors
Advisors (or tutors)
Editors
Publisher
Universidad Complutense de Madrid
Abstract
La investigación que aquí se expone apunta a desarrollar un análisis diacrónico del teatro chileno en el marco de la teoría del discurso, en virtud de la enunciación y los contextos de enunciación en los que este se configura y se recepciona, como forma de complementar la propuesta de análisis del drama organizada en torno al concepto de dramatología. En este sentido, pretende establecer los vínculos entre la creación dramática chilena desde Antonio Acevedo Hernández y su obra Chañarcillo (1936) hasta Guillermo Calderón y el estudio de sus obras Neva (2006), Villa (2012) y Discurso (2012), pasando por las creaciones de Sergio Vodanovic (Dejen que los perros ladren de 1957), Luis Alberto Heiremans (El abanderado de 1962 y El tony chico de 1964), Egon Wolff (Flores de papel de 1970) y Benjamín Galemiri (Edipo Asesor de 2001). El propósito es perfilar una definición de discurso dramático como práctica social - en tanto articulación ideológica entre la teoría y la práctica teatral – a partir de la reflexión dramática moderna y postmoderna. Dicho de otra manera, de los modos en que el drama se articula como ideología dentro de un contexto espacial e histórico determinado. Al hablar de ideología, debemos entenderla como un tipo de práctica social específica ligada a significados y significantes estructurados racional y emocionalmente que configuran nuestras valoraciones de mundo. El estudio pone especial énfasis en los códigos teóricos que delinean el análisis de la dramaturgia, los cuales permiten constatar las consonancias y disonancias de dichos códigos con los de la dramaturgia chilena. Lo anterior con el fin de presentar una propuesta teórica que permita acceder al fenómeno dramático desde un paradigma que aporte al desarrollo de teorías propias del género. En este sentido, se debe señalar la importancia que tiene el estudio de la relación entre la creación dramática y las "poéticas" modernas y postmodernas como articulación ideológica del hecho teatral. Desde el punto de vista metodológico, la tesis se estructura en tres partes. La primera se centra en delimitar críticamente el concepto de discurso para definirlo como práctica social. La segunda, desarrolla una definición operativa de la noción de ideología que dialoga con la propuesta de análisis planteada en la dramatología. Finalmente, la tercera, analiza nueve obras, a la luz de la discusión teórica planteada anteriormente, con el fin de trazar una cartografía del teatro chileno como práctica social y entramado ideológico...
The following research presents a diachronic analysis of Chilean drama in the context of discourse theory, based on enunciation and the enunciation contexts where it is generated and received, as a way of complementing the proposal of drama analysis organized around the concept of dramatology. Within this background, it aims to create a link between the Chilean dramatic creation from Antonio Acevedo Hernández and his work Chañarcillo (1936 ) to Guillermo Calderon and the study of his works Neva (2006 ), Villa (2012) and Discurso (2012 ); also studying plays from Sergio Vodanovic (Dejen que los perros ladren 1957 ), Luis Alberto Heiremans (El abanderado 1962 and El tony chico 1964) , Egon Wolff (Flores de papel 1970 ) and Benjamin Galemiri (Edipo Asesor 2001). The purpose is to outline a definition of dramatic discourse as a social practice - as an ideological connexion between theory and theatrical practice - from modern and postmodern dramatic reflection. In other words, it is about the ways drama is articulated as an ideology within a given space and historical context. When speaking of ideology, we must understand it as a type of specific social practice related to signifier and signified structured in a rational and emotional manner that shape our world's impressions. This research emphasizes on theoretical codes that outline drama analysis, which allow finding consonances and dissonances of such codes with Chilean drama. This is, to present a theoretical proposal that allows to access dramatic phenomenon from a paradigm contributing to the development of own gender theories. In this regard, it should be noted the importance of this study about the relationship between drama creation and modern and postmodern "poetic" as an ideological articulation of the theatrical fact. From a methodological point of view, this thesis is divided into three parts. The first part focuses on critically express the concept of discourse to define it as a social practice. Secondly, it develops an operational definition of the concept of ideology that converse with the analysis proposal raised in the dramatology. Finally, the third part analyses nine works related to the theoretical discussion raised above, in order to draw a map of the Chilean theatre as a social practice and ideological framework...
Description
Tesis inédita de la Universidad Complutense de Madrid, Facultad de Filología, leída el 04/02/2016
Collections