Publication:
Espectroscopía de infrarrojos de la fracción arcillosa de la sucesión sedimentaria del yacimiento paleontológico de Húmera (Cuenca de Madrid)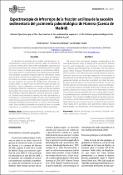 Advisors (or tutors)
Editors
Publisher
Sociedad Geológica de España
Abstract
Se describen los resultados de los análisis espectroscópicos, co- rrespondientes al rango espectral infrarrojo medio, de muestras de la fracción arcillosa de los ocho niveles estratigráficos descritos en el yacimiento paleontológico de Húmera (oeste de la ciudad de Madrid). Esta zona muestra un interés especial por las características tafonó- micas observadas en estudios previos, que indican procesos de diagé- nesis temprana y plantean incógnitas sobre los intercambios iónicos entre las fases minerales de los sedimentos y los fósiles que albergan. Por lo tanto, los estudios mineralógicos y geoquímicos son importan- tes para esclarecer los procesos de transformación entre fases mi- nerales y fósiles. Se observa que los sedimentos están formados por filosilicatos, cuarzo y feldespatos, con menores cantidades de calcita.Se distinguen diferentes minerales de la arcilla, entre los que destacan diversas fases de la serie de las esmectitas dioctaédricas (montmorillo- nita-beidellita), mostrando diferentes cationes en posiciones octaédri- cas. También están presentes la caolinita y las micas (dioctaédricas y trioctaédricas). La coexistencia de diferentes tipos de esmectitas podría indicar diversos procesos de transformación a partir de minerales pre- existentes (heredados de áreas fuente) o la presencia de interestratifi- cados. Estos resultados concuerdan con medios de abanicos aluviales y lacustres en un ambiente con estacionalidad hídrica contrastada.
The results of the spectroscopic analyzes, corresponding to the mid-infrared spectral range, of samples of the clay fraction obtained from the eight stratigraphic levels described in the paleontological site of Húmera (west of Madrid city) are described. This area shows a special interest because of the taphonomic characteristics observed in previous studies, which indicate processes of early diagenesis and pose unknowns about the ionic exchanges between the mineral phases of the sediments and the fossils they house. Therefore, mineralogical and geochemical studies are important to establish and clarify the trans- formation processes between mineral phases and fossils. It is observed that the sediments are formed by phyllosilicates, quartz and feldspars, as well as minor amounts of calcite. Several clay minerals are distin- guished, among which various phases of the dioctahedral smectites series (montmorillonite-beidellite) stand out, showing different cations in octahedral positions. Kaolinite and micas (di and trioctahedral) are also present. The coexistence of different types of smectites could indi- cate various transformation processes from pre-existing minerals (in- herited from the source area) or the presence of mixed-layer minerals. These results are in accordance with sedimentary media of alluvial fans and lakes, in an environment with contrasted hydric seasonality.
Collections