Publication:
Estudio comparativo entre enfermos trasplantados de páncreas-riñón simultáneo en diálisis peritoneal frente a hemodiálisis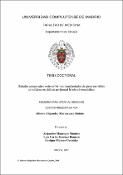 Files
Advisors (or tutors)
Editors
Publisher
Universidad Complutense de Madrid
Abstract
La Diabetes Mellitus es una enfermedad crónica que agrupa a un conjunto de enfermedades metabólicas caracterizadas por la hiperglucemia y aparece cuando el organismo no puede producir suficiente insulina o no puede usar la insulina eficazmente. Esta enfermedad se asocia con graves complicaciones que aumentan la morbilidad y la mortalidad de los enfermos que la sufren. El riesgo de desarrollar una nefropatía aumenta con los años de evolución de la enfermedad. La progresión de esta complicación se caracteriza por la aparición de uremia, síndrome nefrótico y la necesidad de tratamiento mediante diálisis o la realización de un trasplante renal. Existen diversos métodos de diálisis, actualmente los más utilizados son: la hemodiálisis (HD) y la diálisis peritoneal (DP). Tanto la hemodiálisis como la diálisis peritoneal son tratamientos dirigidos a sustituir la función renal pero no curan la insuficiencia renal. Estos tratamientos aumentan la calidad de vida del paciente y le permiten vivir más tiempo. El único tratamiento que puede curar al paciente es el trasplante renal. Para tratar la diabetes tipo 1 existen tres modalidades terapéuticas, que son la administración exógena de insulina y el restablecimiento de la función de las células β mediante un trasplante de páncreas o un trasplante de islotes pancreáticos. Hoy en día, el trasplante de páncreas es una técnica aceptada en todo el mundo, consiguiéndose con éste el estado euglucémico insulino-independiente con normalización de la HbA1c...
Diabetes Mellitus is a chronic disease that brings together a group of metabolic diseases characterized by hyperglycemia and occurs when the body cannot produce enough insulin or cannot use insulin effectively. This disease is associated with serious complications that increase the morbidity and mortality of patients who suffer from it. The risk of developing nephropathy increases with the time of evolution of the disease. The progress of this complication is characterized by the appearance of uremia, nephrotic syndrome and the need for treatment with dialysis or kidney transplantation. There are various methods of dialysis, currently the most used are: hemodialysis (HD) and peritoneal dialysis (PD). Both hemodialysis and peritoneal dialysis are treatments aimed at replacing renal function but neither of them cure kidney failure. These treatments increase the quality of life of patients and let you live longer. The only treatment potentially curative is the renal transplantation. There are three therapeutic modalities for the treatment of type 1 diabetes, which are exogenous insulin administration and restoring the function of β cells by means of either pancreas or pancreatic islet transplantation. At present, pancreas transplantation is an accepted technique worldwide, able to achieve an euglycemic insulin-independent state for the patient and HbA1c normalization. However, this procedure is not without complications, some of them associated with the death of the patient. Currently, simultaneous pancreas-kidney transplantation is the treatment of choice for patients with type 1 diabetes mellitus and endstage renal disease...
Description
Tesis inédita de la Universidad Complutense de Madrid, Facultad de Medicina, Departamento de Cirugía, leída el 27-04-2016
UCM subjects
Cirugía
,
Nefrología y urología
,
Medicina interna
Unesco subjects
3213 Cirugía
,
3205 Medicina Interna