Publication:
Modelización de las deformaciones asociadas a procesos intrusivos en áreas volcánicas y su aplicación a la isla de El Hierro (Islas Canarias)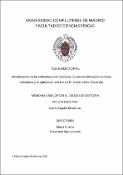 Files
Authors
Advisors (or tutors)
Editors
Publisher
Universidad Complutense de Madrid
Abstract
La actividad volcánica ocurrida entre los años 2011 y 2014 en El Hierro (Islas Canarias) se caracterizó por la ocurrencia de una erupción submarina y el emplazamiento de múltiples intrusiones magmáticas en profundidad. A mediados de julio de 2011 se detectó un intenso enjambre sísmico bajo el centro de la isla que se propagó lateralmente ~15 km de norte a sur hasta culminar, tres meses después, en una erupción submarina a menos de 2 km de su costa sur. La erupción duró 4 meses y produjo grandes burbujas de gas, globos de lava y extensas áreas de cenizas y lapilli en la superficie del mar, así como un cono volcánico en el fondo marino llamado Tagoro. El final de la actividad eruptiva no marcó el final de la actividad volcánica en El Hierro. Entre los cuatro meses y los dos años posteriores se detectaron seis episodios intrusivos bajo la isla. Estos episodios duraron entre 3 y 20 días y produjeron importantes deformaciones del terreno e intensos enjambres sísmicos, lo que confirmó el transporte y acumulación de magma en profundidad. Sin embargo, ninguna de las intrusiones post-eruptivas culminó en una nueva erupción. El objetivo de esta tesis es estudiar desde el punto de vista geodésico la evolución espacial y temporal de los seis episodios intrusivos post-eruptivos ocurridos en El Hierro utilizando, para ello, observaciones del Sistema Global de Navegación por Satélite (GNSS) y de Interferometría Radar de Apertura Sintética (InSAR). Se han utilizado los datos de diez estaciones GNSS de registro continuo y 44 imágenes Radar de Apertura Sintética, captadas por el satélite canadiense RADARSAT-2 y la constelación de satélites italianos COSMO-SkyMed, para cuantificar y caracterizar las deformaciones sufridas por el terreno de la isla durante cada episodio intrusivo. La inversión de los datos geodésicos, empleando para ello un enfoque bayesiano y utilizando modelos analíticos de fuentes de deformación, ha permitido estimar las principales características de las intrusiones responsables de tales deformaciones, como su ubicación, geometría, incremento de volumen o caudales de magma intruido en profundidad, así como su evolución en el tiempo y el espacio...
The 2011-2014 volcanic activity at El Hierro (Canary Islands) was characterized by the occurrence a submarine eruption and the emplacement of multiple magmatic intrusions at depth.In mid-July 2011, an intense seismic swarm was detected beneath the center of the island that propagated laterally ~15 km from north to south until culminating, three months later, in a submarine eruption less than 2 km off its southern coast. The eruption lasted 4 months and produced large gas bubbles, lava balloons and extensive areas of ash and lapilli on the sea surface, as well as a volcanic cone on the seafloor called Tagoro. The end of the eruptive activity did not mark the end of the volcanic activity on El Hierro. Between four months and two years later, six intrusive episodes were detected beneath the island. Each of these episodes lasted between 3 and 20 days and produced significant ground deformations and intense seismic swarms, confirming the transport and accumulation of magma at depth. However, none of the post-eruptive intrusions culminated in a new eruption.The objective of this thesis is to study from a geodetic point of view the spatial and temporal evolution of the six post-eruptive intrusive episodes on El Hierro using Global Navigation Satellite System (GNSS) and Interferometric Synthetic Aperture Radar (InSAR) observations. Surface displacements have been obtained using data from ten continuous GNSS stations and 44 Synthetic Aperture Radar images captured by the Canadian RADARSAT-2 satellite and the Italian COSMO-SkyMed satellite constellation. These observations have made it possible to quantify and characterize the surface displacements of the island during each intrusive episode. The inversion of the geodetic data, using a Bayesian approach and analytical models of deformation sources, has allowed estimating the main characteristics of the intrusions responsible for such ground deformations, such as their location, geometry, volume increase or magma flow at depth, as well as their evolution in time and space...
Description
Tesis inédita de la Universidad Complutense de Madrid, Facultad de Ciencias Físicas, Departamento de Física de la Tierra y Astrofísica, leída el 24-11-2021
Collections