Publication:
Timor-Leste en 2020. Nuevas políticas establecidas por la excepcionalidad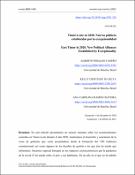 Advisors (or tutors)
Editors
Abstract
En este artículo presentamos un somero resumen sobre los acontecimientos ocurridos en Timor-Leste durante el año 2020. Analizamos el desarrollo y conclusión de la crisis de gobierno que venía arrastrándose desde la formación del VIII Gobierno constitucional, así como algunos de los desafíos de gestión a los que éste ha tenido que enfrentarse. Hacemos especial hincapié en los impactos socioeconómicos que la pandemia de la covid-19 ha tenido sobre el país y sus habitantes. En un año en el que no ha habido noticias excesivamente reseñables en materia de política internacional acerca de Timor-Leste, la seguridad humana en sus diferentes aspectos se ha convertido en el aspecto central a considerar.
This article consists of a brief analysis of the events that occurred in Timor-Leste during 2020. It discusses the development and conclusion of the political crisis that had been dragging on since the formation of the VIII constitutional government, as well as some of the administrative challenges the state had to face. We place special emphasis on the socio-economic impacts that the Covid-19 pandemic has had on the country and its inhabitants. In a year in which there has not been excessively noteworthy news about Timor-Leste's international politics, human security in its different aspects has become the central aspect to consider.
Collections