Publication:
Atmospheric circulation changes in the tropical Pacific inferred from the voyages of the Manila galleons in the sixteenth-eighteenth centuries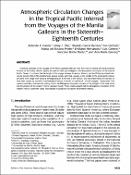 Authors
Prieto, María del Rosario
Advisors (or tutors)
Editors
Publisher
American Meteorological Society
Abstract
Historical accounts of the voyages of the Manila galleons derived from the Archivo General de Indias (General Archive of the Indies, Seville, Spain) are used to infer past changes in the atmospheric circulation of the tropical Pacific Ocean. It is shown that the length of the voyage between Acapulco, Mexico, and the Philippine Islands during the period 1590-1750 exhibits large secular trends, such that voyages in the middle of the seventeenth century are some 40% longer than those at the beginning or at the end of the century, and that these trends are unlikely to have been caused by societal or technological factors. Analysis of a series of "virtual voyages," constructed from modem wind data,,indicates that sailing time to the Philippines depended critically on the strength of the trade winds and the position of the western Pacific monsoon trough. These results suggest that the atmospheric circulation of the western Pacific underwent large, multidecadal fluctuations during the seventeenth century.
Description
©2001 American Meteorological Society. The authors wish to thank Mr. Cruz Apestegui for advice on the design and sailing characteristics of the Manila galleons, and Drs. A. K. Smith, W. Randel, P. Gent, and A. Kaplan for their comments on the original manuscript. Valuable comments were also provided by two anonymous reviewers. This work was supported in part by a Small Grant for Exploratory Research from the Earth System History (ESH) Program of the National Science Foundation (NSF); the support and encouragement of former ESH Director Dr. Howard Zimmerman is gratefully acknowledged. The National Center for Atmospheric Research is sponsored by NSF.
Citation
Bradley, R. S., and P. D. Jones, Eds., 1992: Climate Since A.D. 1500. Routledge, 679 pp. Burt, W. V., 1990: The search for the Manila galleon log books. Bull. Amer. Meteor. Soc., 71, 1630–1636. Fu, C., and J. Fletcher, 1988: Large signals of climatic variation over the ocean in the Asian monsoon region. Adv. Atmos. Sci., 5, 389–404. García, Herrera, R., M. R. Prieto, L. Gimeno, E. Hernández, E. López, and E. Herrera, 1999: The Archivo General de Indias as a source of climatic marine surface information. WMO Marine Meteorology and Related Oceanographic Activities, H. Díaz and S. Woodruff, Eds., WMO Rep. 43, WMO/TD 957, 61-69. Garrett, R., 1996: The Symmetry of Sailing. Sheridan House, 268 pp. Kalnay, E., and Coauthors, 1996: The NCEP/NCAR 40-Year Reanalysis Project. Bull. Amer. Meteor. Soc., 77, 437–471. Kaplan, A., Y. Kushnir, and M. A. Cane, 2000: Reduced space optimal interpolation of historical marine sea level pressure: 1854–1992. J. Climate, 13, 2987–3002. Kistler, R., and Coauthors, 2001: The NCEP/NCAR 50-year reanalysis: Monthly means CD-ROM and documentation. Bull. Amer. Meteor. Soc., 82, 152–168. Kripalani, R. H., and A. Kilkarni, 1997: Rainfall variability over south-east Asia—Connections with Indian monsoon and ENSO extremes: New perspectives. Int. J. Climatol., 17, 1155–1168. Lau, K.-M., and S. Yang, 1997: Climatology and interannual variability of the Southeast Asian summer monsoon. Adv. Atmos. Sci., 14, 141–162. ——, and Coauthors, 2000: A report of the field operations and early results of the South China Sea Monsoon Experiment (SCMEX). Bull. Amer. Meteor. Soc., 81, 1261–1270. McGregor, G. R., and S. Nieuwolt, 1998: Tropical Climatology. John Wiley and Sons, 339 pp. Meehl, G. A., 1982: Characteristics of surface current flow inferred from a global ocean current data set. J. Phys. Oceanogr., 12, 538–555. Ortlieb, L., 2000: The documentary historical record of El Niño events in Peru: An update of the Quinn record (sixteenth through nineteenth centuries). El Niño and the Southern Oscillation, Multiscale Variability and Global and Regional Impacts, H. F. Díaz and V. Markgraf, Eds., Cambridge University Press, 207–295. Parthasarathy, B., K. Rupa Kumar, and A. A. Munot, 1991: Evidence of secular variations in Indian monsoon rainfall– circulation relationships. J. Climate, 4, 927–938. Prieto, M. R., R. Herrera, and P. Dussel, 1999: Historical evidences of Mendoza River, Argentina, streamflow fluctuations and their relationship with ENSO. Holocene, 9, 473–481. Quinn, W. H., 1992: A study of Southern Oscillation-related climatic activity for A.D. 622–1990 incorporating Nile River flood data. El Niño: Historical and Paleoclimatic Aspects of the Southern Oscillation, H. Díaz and V. Markgraf, Eds., Cambridge University Press, 119–150. ——, D. O. Zorf, K. S. Short, and R. T. Kuo Yang, 1978: Historical trends and statistics of the Southern Oscillation, El Niño, and Indonesian droughts. Fish. Bull. U.S., 76, 663–678. Ramage, C. S., 1971: Monsoon Meteorology. Academic Press, 296 pp. Sadler, J. C., M. A. Lander, A. M. Horei, and L. K. Oda, 1987: Tropical Marine Climatic Atlas. UHMET Publ. 87-02, Dept. of Meteorology, University of Hawaii. Santiago, Cruz, F., 1962: La Nao de China. Jus, 191 pp. Schurz, W. L., 1939: The Manila Galleon. E. P. Dutton and Company, 453 pp. Serrano Mangas, F., 1985: Los galeones de la carrera de Indias, 1650–1700. Publ. Escuela de Estudios Hispano-Americanos de Sevilla, CCCXVII, 1–209. Tao, S., and L. Chen, 1987: A review of recent research on the East Asian summer monsoon in China. Monsoon Meteorology, C.-P. Chang and T. N. Krishnamurti, Eds., Oxford University Press, 60–92. Williams, J. H., 1982: Tapping the Orient: Voyages of the Manila galleons. Oceans, 15, 44–49. Woodruff, S. D., R. J. Slutz, R. L. Jenne, and P. M. Steurer, 1987: A comprehensive ocean–atmosphere data set. Bull. Amer. Meteor. Soc., 68, 1239–1250.
Collections