Publication:
Emission-line galaxy surveys with GTC: The Hα Universe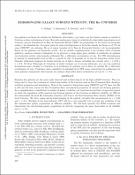 Authors
Advisors (or tutors)
Editors
Publisher
Universidad Nacional Autónoma Mexico, Instituto Astronomía
Abstract
Emission line galaxies are the most easily detected and studied objects in the high redshift Universe. They are being used to trace the evolution of critical observables of the Universe such as Star Formation Rate densities, starburst properties and abundances. Most of the research is being done using [OII]3727 and UV lines, but Hα is still one the best tracers for Star Formation Rate and physical properties of current star-forming galaxies. As a complementary contribution to studies of galaxy evolution, our team has focused into a long-term project to study the population of Hα-selected star-forming galaxies of the Universe at different redshifts. In 1995 we first determined the local Hα luminosity function, and from it the Star Formation Rate density (SFRd) of the local Universe. We then, using narrow-band imaging in the optical, extended this measurement to z ≃ 0.24 and z ≃ 0.4. Working in the near-infrared, GTC will be a very powerful tool to study the evolution of the Hα emission-line galaxy populations at different redshifts. We will both quantify the SFRd evolution and characterize the star-forming galaxy populations by directly comparing the same observables at all redshifts up to z ≃ 2.5.
Las galaxias con líneas de emisión son fácilmente detectadas y por tanto, son los objetos cuando se estudia el Universo a altos corrimientos al rojo. Han sido usadas para trazar la evolución de observables importantes en el Universo como la densidad de la Tasa de Formación Estelar (SFR), las propiedades de los brotes de formación estelar y las abundancias. La mayor parte de estas investigaciones se ha hecho usando las líneas en el UV así como [OII]3727; sin embargo, Hα es el mejor trazador de la Tasa de Formación Estelar y de las propiedades físicas de las galaxias con formación actual. En un estudio complementario a los estudios sobre evolución galáctica, nosotros estamos trabajando en un proyecto a largo plazo para estudiar la población de galaxias con formación estelar, seleccionadas utilizando Hα, a diferentes corrimientos al rojo. En 1995 determinamos la función de luminosidad local en Hα y, a partir de ella, la densidad de la tasa de formación estelar local. Después, utilizando imágenes de banda estrecha en el optico, hemos extendido este estudio entre z≃0.24 y z≃0.4. El Gran Telescopio de Canarias, al poder trabajar en el cercano infrarrojo, va a ser una poderosa herramienta para estudiar la evolución de la población de galaxias con la línea de emisión Hα a diferentes corrimientos al rojo. Podremos tanto cuantificar la densidad de la SFR como caracterizar las poblaciones de estas galaxias comparando directamente los mismos observables hasta corrimientos al rojo de z≃2.5.
Description
© 2005: Instituto de Astronomía, UNAM. International GTC Workshop - Science with GTC 1st-Light Instruments and the LMT (2º. 2005. Ciudad de México, México).
Citation
Baugh, C. M., Cole, S., Frenk, C. S., & Lacey, C. G. 1998, ApJ 498, 504 Brinchmann, J., Charlot, S., White, S. D. M., Tremonti, C., et al. 2004, MNRAS (astro-ph/03110600) Calura, F. & Matteucci, F. 2003, ApJ, 596, 734 Charlot, S. 1998, 34th Liege Colloq, ESA-SP, 429, 135 Charlot, S. & Longhetti, M. 2001, MNRAS, 323, 887 Cole, S., Aragón Salamanca, A., Frenk, C. S., Navarro, J. F., & Zepf, S. E. 1994, MNRAS, 271, 781 Contini, T., Treyer, M.A., Sullivan, M., & Ellis, R.S. 2002, MNRAS, 330, 75 Ellis, R. S. 1997, ARA&A, 35, 389 Gallagher, J. S., Hunter, D. A., & Bushouse, H. 1989, AJ, 97, 700 Gallego, J., Zamorano, J., Aragón Salamanca, A., & Rego, M. 1995, ApJ, 455, L1 Glazebrook, K., Blake, C., Economou, F., Lilly, S., & Colless, M. 1999, MNRAS, 306, 843 Hoeft, M., Mucket, J. P. & Heide, P. 2002, ApJ, 570, 33 Iwamuro, F., Motohara, K., Maihara, T., Iwai, J., et al. 2000, PASJ, 52, 73 Jones, D. H., & Bland-Hawthorn, J. 2001, ApJ, 550, 593 Kauffmann, G., White, S. D. M., & Guiderdoni, B. 1993, MNRAS, 264, 201 Kauffmann, G., Colberg, J.M., Diaferio, A., & White, S.D.M. 1999, MNRAS, 303, 188 Kennicutt, R.C. 1992, ApJ, 388, 310 Lacey, C.G. & Silk, J. 1991, ApJ, 381, 14 Moorwood, A. F. M., van der Werf, P. P., Cuby, J. G., & Oliva, E. 2000, A&A, 362, 9 Pascual, S., Gallego, J., Aragón Salamanca, A., & Zamorano, J. 2001, A&A, 379, 798 Pascual, S. 2004, Ph.D. Thesis, Universidad Complutense de Madrid Pascual, S., Gallego, J., Aragón Salamanca, A., & Zamorano, J. 2004, A&A, in press Pettini, M., Kellogg, M., Steidel, C. C., Dickinson, M., Adelberger, K. L., & Giavalisco, M. 1998, ApJ, 508, 539 Pettini, M., Shapley, A.E., Steidel, C. C., Cuby, J.-G., et al. 2001, ApJ, 554, 981 Somerville, R., Primack, J., & Faber, S. M. 2001, MNRAS, 320, 504 Tresse, L. & Maddox, S. J. 1998, ApJ, 495, 691 Tresse, L., Maddox, S. J., Le Févre, O., Cuby, J.-G. 2002, MNRAS, 337, 369 Treyer, M. 2002, IAU Symp 212 Proceedings van der Werf, P.P., Moorwood, A.F.M., & Bremer, M.N. 2000, A&A, 362, 509 Villar, V., Gallego, J., Zamorano, J. & Koo, D.C., 2004, ApJ, in press Yan, L., McCarthy, P.J., Freudling, W., Teplitz, H.I., et al. 1999, ApJ, 519, L47
Collections