Publication:
Un análisis del caso de Fuhem y su recorrido sociohistórico, del nacional patrimonialismo a la democratización formal: el cambio de las clases medias urbanas y de la perspectiva comunitaria de intervención social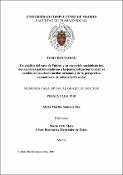 Files
Authors
Advisors (or tutors)
Editors
Publisher
Universidad Complutense de Madrid
Abstract
Este trabajo de investigación tuvo como propósito analizar las transformaciones del proyecto de FUHEM desde su origen en 1946 hasta los años 80. Estos cambios se produjeron en relación con las experiencias vividas por su fundador Tomás Morales y por la de sus militantes, especialmente la conversión material e ideológica de estos como viejas clases medias patrimoniales a nuevas clases medias funcionales. De forma complementaria, este análisis se realizó con la profundización del contexto sociohistórico en el que se inscribió, es decir, con el paso del orden nacionalpatrimonialista de la década de 1940 a la democratización formal de los años 80. La metodología planteada fue por tanto la del enfoque cualitativo, específicamente la interpretación psicosociológica y la revisión sociohistórica. De acuerdo con el estudio realizado, se concluye que los giros del proyecto de la Fundación habrían dependido fundamentalmente de tres desplazamientos ideológicos que vivieron sus militantes. Estos aparecieron asociados a los momentos sentidos como peligro y amenaza personal y social, a los sentimientos de pertenencia que desarrollarían en relación con diferentes comunidades afectivas y a la reelaboración simbólica del orden social y el poder. Todo ello, mediado por la modernización capitalista, la secularización moral y de las costumbres y la reconstrucción de la hegemonía burguesa.
The purpose of this research work was to analyze the transformations of the FUHEM project from its origin in 1946 to the 1980s. These changes occurred in relation to the experiences lived by its founder Tomás Morales and that of his militants, especially material conversion and ideological from these as old patrimonial middle classes to new functional middle classes. In a complementary way, this analysis was carried out with the deepening of the socio-historical context in which it was inscribed, that is, with the transition from the national patrimonial order of the 1940s to the formal democratization of the 1980s. The methodology proposed was therefore the qualitative approach, specifically psychosociological interpretation and sociohistorical review. According to the study carried out, it is concluded that the turns of the Foundation project would have depended fundamentally on three ideological displacements that its militants experienced. These appeared associated with the moments felt as danger and personal and social threat, with the feelings of belonging that they would develop in relation to different affective communities and with the symbolic re-elaboration of social order and power. All this mediated by capitalist modernization, moral and customs secularization and the reconstruction of bourgeois hegemony.
Description
Tesis inédita de la Universidad Complutense de Madrid, Facultad de Trabajo Social, leída el 26-01-2021
Collections