Publication:
Iconografía de la moneda griega de Sicilia (siglos VI a. C. - III a. C.)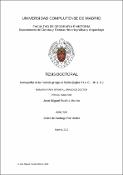 Files
Authors
Advisors (or tutors)
Editors
Publisher
Universidad Complutense de Madrid
Abstract
Esta tesis versa sobre el estudio y análisis de los tipos iconográficos que aparecen en las monedas sicilianas acuñadas durante la etapa de presencia griega en la isla (siglos VI a.C. – III a.C.) hasta la inclusión total de la isla bajo dominio de Roma. Este estudio y análisis de sus diferentes tipos iconográficos abarca todas sus cecas, así como también estudia las acuñaciones de la población de Reghio, por tratarse de una zona de influencia directa de la moneda griega de Sicilia. Esta tesis no se trata de un catálogo nuevo o revisión de los antiguos, sino que trata sobre la relación histórica así como la influencia cultural y religiosa que pueden ser observadas a través de las imágenes acuñadas en las monedas griegas. Por lo tanto, además de realizar un estudio iconográfico, trato de encontrar la relación por la cual ese motivo en concreto es elegido así como sus posibles influencias según el área geográfica en el que se acuña o según la población a la que representa (principalmente griega, élima, sícula o cartaginesa). Además, utilizo los datos aportados por las excavaciones de los yacimientos arqueológicos para poder observar y determinar las posibles relaciones entre los cultos allí realizados y la moneda local, tratando de hacer hincapié en la presencia de santuarios y cultos adscritos según las fuentes antiguas y la arqueología. Hay que añadir que, además de tratar los yacimientos como fuente documental, también analizo la presencia de ocultamientos o tesoros monetarios encontrados en Sicilia para hacer una relación de éstos con su contexto histórico, así como también analizo la metrología de las monedas sicilianas a lo largo de este periodo histórico, para comprobar si corresponde el área de influencia ponderal con el área de influencia iconográfico. La estructura de la tesis se compone de dos partes fundamentalmente, un catálogo revisado de todas las cecas sicilianas durante los siglos VI a.C. – III a.C. y un análisis iconográfico de los elementos que aparecen representados en ellas...
This thesis is about the study and analysis of the iconographic elements which appear in the coinage minted in Sicily during the Greek period in the island (VIth – IIIrd centuries B.C.) until the beginning of Roman control over the isle. This study and analysis of the different iconographic elements includes all the mints, as well as it studies the coinage of the town of Reghio, because of being a direct influence zone of the Greek coins of Sicily. This thesis is not a new catalogue or revision of previous catalogues, it is about the historical relation and the cultural and religious influence which can be observed through the images minted in the Greek coins. So, in addition to realize an iconographic study, I try to find the relation why that iconographic element was chosen as well as its possible influences depending on the geographic area in which it is minted or according to the population it represents to (mainly Greek, Elymian, Sikel or Punic). In addition, I use the data given by the excavations from the archeological sites to observe and determine possible relations between the worships realized there and the local coinage, trying to give relevance to the presence of sanctuaries and worships assigned by both, ancient authors and archeology. I must add that, in addition to consider the archeological sites as an information source, I have analyzed the presence of hoards found in Sicily too, to make a connection between them and their historical context as well as I have checked the metrology of the Sicilian coins during this period to test if their weigh influence area belongs to the iconographic influence area. The structure of the thesis is divided in two parts, a reviewed catalogue with all the Sicilian mints during the VIth – IIIrd B.C. centuries and an iconographic analysis of the elements which appear represented in the coinage...
Description
Tesis inédita de la Universidad Complutense de Madrid, Facultad de Geografía e Historia, Departamento de Ciencias y Técnicas Historiográficas y Arqueología, leída el 22/01/2016
Collections