Publication:
Competencia en el sector aéreo y aeroportuario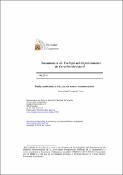 Authors
Advisors (or tutors)
Editors
Abstract
Este trabajo analiza la competencia en el sector aéreo y aeroportuario. Constituye una puesta al día y ampliación del trabajo que aparece en la 2ª edición de la obra de referencia. Se analiza la liberalización del transporte aéreo y de las actividades aeroportuarias y su incidencia desde el punto de vista de la competencia. Por lo que se refiere al segundo de los aspectos señalados, se presta especial atención a los servicios de asistencia en tierra de aeronaves, pasajeros y mercancías. En cuanto al régimen de financiación de aeropuertos dos son las grandes cuestiones abordadas: por un lado, el nuevo modelo de gestión aeroportuaria (que, en los términos en que está configurado en este momento, no promoverá la competencia) y, por otro, la financiación pública de los aeropuertos y compañías aéreas prestando especial atención a las Directrices de 2014.
This paper analyses competition within the aviation sector. It is is an up-to-day review and development of its precedent published in 2009. It first focus on Air Service Liberalization and then discusses in detail the reform of airport management and financing in Spain. Our analysis suggests that the reform that individualizes the airport system doesn´t promote airport competition. On the other hand, the author analyses the new Aviation Guidelines adopted by the European Commission in February 2014 replacing the 1994 and 2005 Aviation Guidelines. The revised rules are welcomed as they further elaborate on the assessment criteria to apply the market economy operator principle and remove certain conditions (that had been deemed questionable) for the European Commission authorising start-up aid to airlines.