Publication:
Ave Verum Corpus conversión y usos del dolor somático en la posmodernidad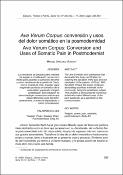 Authors
Advisors (or tutors)
Editors
Publisher
UNED – Universidad Nacional de Educación a Distancia: Facultad de Geografía e Historia
Abstract
La conciencia de pecado judeo cristiana ha exigido la mortificación carnal como medio para alcanzar la salvación del alma y como meditación de la pasión de Cristo. Con la muerte de Dios, el poder sigue exigiendo sacrificios en beneficio de la comunidad, quedando el sujeto anestesiado. Esta situación es denunciada por numerosos artistas que hacen diferentes usos del dolor: pasivamente, a modo de espectáculo o como comunicación.
The Jew-Christian sin's conscience has demanded the body mortification for reaching the salvation of the soul and like meditation of the passion of Christ. With the death of God, the power continues demanding sacrifices in benefit of the community, being the anesthesic subject. This situation is denounced by numerous artists who make different uses of the pain: passively, as a spectacle or like communication.
Collections