Publication:
Estudio de la influencia de las materias primas en la producción y propiedades de biodiesel como combustible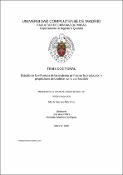 Files
Authors
Advisors (or tutors)
Editors
Publisher
Universidad Complutense de Madrid
Abstract
La búsqueda de nuevas fuentes de energía que impliquen menores emisiones de gases de efecto invernadero y eviten la dependencia energética exterior está siendo objeto de numerosos estudios. Por este motivo, el consumo de biocombustibles ha sufrido un importante aumento en los últimos años. El biodiesel se define como un combustible líquido obtenido a partir de fuentes lipídicas naturales mediante transesterificación o esterificación que se usa como sustituto total o parcial del gasóleo obtenido del petróleo. Desde el año 2000, la producción mundial de biodiesel ha crecido de manera significativa gracias a políticas que fomentaban su consumo mediante la imposición normativa de porcentajes de utilización y diferentes ayudas y subvenciones a la producción por parte de los estados. El proceso de producción industrial de biodiesel comprende las etapas de transesterificación y purificación, si se emplean materias primas con un grado de refino mínimo (eliminación de ácidos grasos libres y fosfolípidos). En caso de emplear aceites o grasas sin refinar, es necesario un pretratamiento. Si bien el proceso de producción no es complejo, el producto obtenido tiene una serie de desventajas en comparación con el gasóleo. Existen dos características que limitan, desde el punto de vista técnico, el uso del biodiesel: su menor resistencia a la oxidación, comparada con el diésel convencional, y los elevados puntos de congelación que presenta. La oxidación del biodiesel da lugar a un aumento de la viscosidad y acidez, con la consiguiente formación de sustancias insolubles. Estos problemas se traducen en el posible taponamiento de filtros y conducciones del motor. El elevado punto de congelación limita su uso en climas fríos, ya que pueden darse problemas de fluidez o incluso de obstrucción de filtros por la cristalización...
Biofuels consumption has suffered a significant increase in recent years. The environmental issues associated with fossil fuels and the problems derived from the foreign energetic dependence are gaining weight. Biodiesel is defined as a liquid fuel produced from renewable lipidic sources through esterification or transesterification that can be used as a total or partial substitute for diesel produced from oil. Since 2000, the biodiesel production has been rising rapidly due to different policies which promoted its consumption by means of the enforcement of regulations, such as subsidies and mandated use of biodiesel. Refined oils can be directly converted to biodiesel by transesterification and purification. However, if non refined materials are used, a pretreatment step is required. Production method is quite simple but biodiesel has some disadvantages compared to diesel fuel. From a technical point of view, there are mainly two issues that can limit its use as fuel for transportation purposes: its poor oxidative stability and high melting point, compared to diesel fuel. The deterioration of fatty acid alkyl esters leads to viscosity and acid value increases, and the secondary products formation which can block filters. Performance in cold weather can limit the use of biodiesel as diesel substitute, since crystals can block vehicle filters and settle in storage tanks...
Description
Tesis inédita de la Universidad Complutense de Madrid, Facultad de Ciencias Químicas, Departamento de Ingeniería Química, leída el 15-01-2016.
Collections