Publication:
The Complications of the Erotic: Eroticism in "Last Tango in Paris" and "Une liaison pornographique"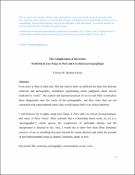 Authors
Advisors (or tutors)
Editors
Abstract
Even more so than in other arts, film has tried to draw an artificial but clear line between eroticism and pornography, nonetheless perpetuating moral judgments about movies marketed as "erotic". The explicit and repeated portrayal of sex in such films would place them dangerously near the vortex of the pornographic, and thus, since they are not concerned with transcendental issues, they would require little or no critical attention. I will however try to argue, using Last Tango in Paris and Une liaison pornographique, that many of these "erotic" films conclude that a relationship based solely on sex (i.e. "pornographic"), which ignores the complexities of individual identity and the interpersonal is doomed to fail. Also, I would like to show how these films ultimately conceive of sex as something that goes beyond the merely physical and walks the grounds of such transcendental issues as despair, loneliness, death, or love.
Más aún que en otras artes, el cine ha intentado dibujar una frontera clara aunque artificial entre erotismo y pornografía, perpetuando simultáneamente juicios de valor respecto a las películas consideradas o comercializadas como "eróticas". La representación explícita y repetida del deseo sexual haría que dichas películas se sitúen peligrosamente cerca de la esfera de lo pornográfico y no merezcan por tanto atención crítica, dado que no se preocuparían por cuestiones realmente trascendentes. Es mi intención analizar, utilizando El último tango en París y Una relación privada, cómo en muchas de estas películas "eróticas" se concluye que una relación únicamente basada en el sexo ("pornográfica"), que ignore las complejidades de la propia identidad y de lo interpersonal, es imposible, y cómo el sexo se concibe en ellas como algo que trasciende lo físico y se adentra en aspectos trascendentes como la desesperación, la soledad, la muerte, o el amor.
Collections