Publication:
Estudio cognitivo de la metáfora y metonimia del eufemismo lingüístico de "morir" en chino y español: análisis contrastivo y su aplicación en ELE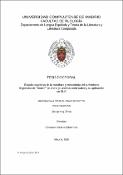 Files
Authors
Advisors (or tutors)
Editors
Publisher
Universidad Complutense de Madrid
Abstract
Esta tesis nace con el objetivo de mostrar y comparar la forma en la que los hablantes españoles y chinos conceptualizan la muerte en el ámbito de expresiones eufemísticas a través de modelos conceptuales como la metáfora, la metonimia conceptual y su interacción. Para llevar a cabo esta investigación, primero delimitamos los conceptos pertinentes al eufemismo y eufemismo lingüístico y explicamos los mecanismos lingüísticos y las estructuras internas de las expresiones eufemísticas en español y chino, que abordamos en el ámbito de la muerte. Segundo, establecemos un esquema conceptual (la metáfora y metonimia conceptuales, los esquemas de imagen, los complejos metafóricos y metonímicos, la interacción entre metáfora y metonimia y los modelos culturales) y general que se podrá aplicar para analizar las expresiones eufemísticas sobre la muerte en ambos idiomas. Tercero, analizamos las similitudes y divergencias de los eufemismos lingüísticos de la muerte desde tres perspectivas cognitivas (las similitudes, las divergencias parciales y completas y la combinación e interacción de los modelos cognitivos). De acuerdo con los resultados del análisis contrastivo, exponemos una serie de propuestas didácticas para los estudiantes chinos, con el fin de construir un sistema conceptual de la L2 sobre el tema de la muerte y desarrollar la competencia metafórica a través de textos líricos...
Our main objective is to show and compare the ways in which Spanish and Chinese speakers conceptualize death with euphemistic expressions, through conceptual models such as metaphor, conceptual metonymy and their interaction. The specific objectives this thesis aims to achieve are the following: 1) To elaborate a corpus of linguistic euphemisms about death in both languages. 2) To propose new classification criteria for linguistic euphemism, which should serve as an approach for future research from a cognitive and pragmatic view. 3) To establish a conceptual and general scheme that can be applied to analyze euphemistic expressions about death in both languages. 4) To explore the main cultural models that intervene in the process of conceptualization through the analysis of the linguistic euphemisms of death in both languages. 5) To examine and analyze the similarities and divergences of the linguistic euphemisms of death in three cognitive aspects: a) the similarities existing in the image schemes, the relevance of the conceptual metaphor and the existence of coincident metaphors and metonymies; b) partial and complete divergences from the perspective of cultural conceptualizations and cognitive models; c) the conceptual combination of two metaphors and two conceptual metonymies in a euphemistic expression and the interaction of conceptual metonymy in both the source domain and the target domain...
Description
Tesis inédita de la Universidad Complutense de Madrid, Facultad de Filología, Departamento de Lengua Española y Teoría de la Literatura y Literatura Comparada, leída el 03-10-2017
Collections