Publication:
Origen y consecuencias de la inflamación en depresión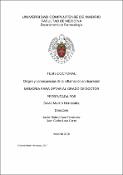 Files
Authors
Advisors (or tutors)
Editors
Publisher
Universidad Complutense de Madrid
Abstract
La depresión es una de las patologías psiquiátricas con mayor prevalencia en la actualidad y con un grave impacto en la salud pública. Alrededor de un tercio de los pacientes son resistentes al tratamiento farmacológico disponible actualmente, por lo que existe una urgente necesidad de profundización en el conocimiento de su fisiopatología que permita desarrollar estrategias terapéuticas más eficaces. Por ello, en los últimos años se han planteado diferentes hipótesis complementarias a la monoaminérgica sobre la que se basan los antidepresivos utilizados en clínica, siendo una de las más relevantes la hipótesis inflamatoria de la depresión.La inflamación que acompaña no sólo a la depresión, si no a otras patologías psiquiátricas, podría estar desencadenada por el estrés y los principales mecanismos alterados pertenecen al sistema inmune innato. La cronificación de los estímulos estresantes desregulan el eje hipotálamo-hipófisis-adrenal, provocando un desequilibrio en la articulación de la resolución inflamatoria que desemboca en situaciones potenciales de daño...
Depression is one of the most prevalent psychiatric diseases nowadays with a significant impact in public health. Around one third of the patients are treatment-resistant to available drugs, thus there is a pressing need to achieve a better understanding of the pathophysiology allowing the development of more effective therapeutic strategies. Lately, different hypothesis, complementary to the monoaminergic one in which the antidepressants used in clinics are based, have arisen becoming the inflammatory hypothesis of depression one of the most relevant.The inflammation - not only accompanying depression but also other psychiatric pathologies - could be triggered by stress and the main dysregulations are related to the innate immune system. Moreover, stressors can become chronic and modify the hypothalamus pituitary adrenal axis (HPA) activity leading to a dysregulation in the inflammatory process, leading to potential harmful situations...
Description
Tesis de la Universidad Complutense de Madrid, Facultad de Medicina, Departamento de Farmacología, leída el 06-06-2017
Collections