Publication:
La benefactoría de los obispos hacia los monasterios castellanos en la Baja Edad Media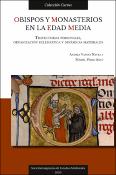 Authors
Advisors (or tutors)
Publisher
Sociedad Argentina de Estudios Medievales
Abstract
Se analizan las relaciones de benefactoría de los obispos y arzobispos hacia los monasterios castellanos durante la Baja Edad Media a través de diferentes perspectivas: la devoción de los prelados; la benefactoría ejercida hacia los monasterios de su diócesis; su actuación como nobles hacia los cenobios ubicados en sus señoríos o vinculados a su linaje y la derivada de haber sido profesos, visitadores o reformadores de algún cenobio. La benefactoría tuvo como contrapartida la prestación de una serie de servicios por parte de los monasterios a los prelados como lugares de formación, banco de depósitos y archivos, lugares de hospedaje, refugio y retiro y el desempeño de asuntos importantes por parte de los religiosos.
This paper analyses the bishops and archbishops' relationships with the Castilian monasteries during the Low Middle Ages from different perspectives: the prelates' devotion; the benefactoría towards the monasteries of their diocese; their role both as nobles in the monasteries located in their manors or linked to their lineage, and as professed monks or friars, visitadores or reformadores of a certain monastery. The benefactoría had as a counterpart the provision of a series of services offered by the monasteries to the prelates as formation centers, depository banks and archives, places of lodging, refuge and retreat, and the involvement of the monks in important matters.
Description
Este trabajo se enmarca en los Proyectos de Investigación "Expresiones de la cultura política peninsular en las relaciones de conflicto (Corona de Castilla, 1230-1504)", ref. HAR2016-76174-P, del Programa Estatal de Fomento de la Investigación Científica y Técnica de Excelencia y "El ejercicio del poder: espacios, agentes y escrituras (siglos XI-XV)", ref. HAR2017-84718-P, financiado por el MINECO/AEI/FEDER (UE).
Collections