Publication:
Cambios psicosociales en los adolescentes actuales: incidencia del uso de las redes sociales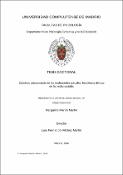 Files
Authors
Advisors (or tutors)
Editors
Publisher
Universidad Complutense de Madrid
Abstract
La presente investigación intenta dar respuesta a algunos interrogantes en relación a aspectos psicológicos y madurativos de los adolescentes actuales y su forma de relacionarse con el entorno. Nuestro objetivo general es analizar los posibles efectos psicológicos, afectivos y sociales que implica el uso de las redes sociales como factor influyente en la socialización de los adolescentes. Al ser un objetivo muy amplio, lo desglosamos en otros más específicos. El primero es conocer la disponibilidad y los usos que hacen los adolescentes de las redes sociales. El segundo es estudiar cómo influye el uso de éstas en el desarrollo social de los menores, su capacidad para expresar sus propias emociones y reconocer las de los demás a través del ordenador. Lo subdividimos en conocer si los adolescentes perciben mejoras en la calidad de sus relaciones gracias al uso de las redes; comprobar si existe "efecto pantalla" por el uso de las mismas; saber si los acontecimientos surgidos en las redes sociales tienen consecuencias reales en su vida diaria. El tercer objetivo específico es averiguar los ciber-riesgos a los que se exponen los adolescentes. El cuarto es analizar el impacto familiar que tiene el uso de las redes sociales. Finalmente, el quinto es conocer la opinión de los expertos sobre la posibilidad del nacimiento de una nueva inteligencia digital, y las perspectivas de futuro. La metodología utilizada es mixta. En la parte cuantitativa aplicamos cuestionarios a adolescentes de entre 14 y 16 años. En la cualitativa realizamos focus groups con padres y docentes, aplicamos la técnica Delphi a expertos en la materia y finalmente realizamos entrevistas en profundidad a varios expertos...
This research attempts to answer some questions concerning psychological aspects and maturation of today's teenagers and how they interact with the environment. Our overall objective is to analyze the possible psychological, emotional and social effects involving the use of social networks as part of the socialization of adolescents. Being a very broad goal, we break it down into more specific. The first is to find availability and the uses adolescents give to social networks. The second is to study how its use influence the social development of children, their ability to express their own emotions and recognize those of others via computer. We subdivide it in finding out whether adolescents perceive improvements in the quality of their relationships through the use of networks; check for "display effect" by the use thereof; whether the events arising in the social networks have real consequences in their daily lives. The third specific objective is to find out cyber risks that teens are exposed to. The fourth is to analyze the relative impact of the use of social networks. Finally, the fifth is to know the opinion of experts on the possibility of the birth of a new digital intelligence, and future prospects. The methodology used is mixed. In the quantitative part we apply questionnaires for teenagers between 14 and 16 years. In the qualitative one, we conducted focus groups with parents and teachers, and we applied the Delphi technique to several experts in the subject. Finally performed in-depth interviews to some experts...
Description
Tesis inédita de la Universidad Complutense de Madrid, Facultad de Psicología, Departamento de Psicología Evolutiva y de la Educación, leída el 15-12-2015
Collections