Publication:
Ingreso no consentido: merma de la capacidad de obrar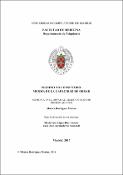 Files
Authors
Advisors (or tutors)
Editors
Publisher
Universidad Complutense de Madrid
Abstract
La obtención del consentimiento informado por parte de los profesionales de la salud es un precepto de cumplimiento ineludible desde una perspectiva deontológica sometido a requerimientos jurídicos. Los valores que deben gobernar la práctica profesional sanitaria desde una perspectiva bioética son "no maleficencia", "justicia", "beneficencia" y "autonomía", sustrato de los principios de voluntariedad, información y autonomía que rigen la relación médico paciente. La obtención del consentimiento informado precisa de la conservación de las capacidades necesarias para la toma de decisión, entendiendo por éstas las aptitudes cognitivas, volitivas y afectivas, que permiten al paciente comprender su realidad sanitaria, valorar las distintas alternativas terapéuticas, decidir voluntariamente, sin coacción externa, y con conciencia de los beneficios terapéuticos y riesgos que la recomendación terapéutica implica, para una posterior expresión de dicha decisión, sea verbal o no. Es lo que se conoce como la capacidad de obrar. Los profesionales sanitarios, concretamente vinculados al mundo de la salud mental, desempeñan un rol y actividad relevante y decisivo en la determinación de la capacidad de tomar decisiones del paciente, ajustándose al marco jurídico. El Derecho recoge que un paciente es capaz de otorgar el consentimiento informado cuando tiene entendimiento y voluntad suficientes; en cambio no especifica criterios objetivos o prácticas de evaluación...
Obtaining informed consent by health professionals is a precept of inescapable compliance from an ethical perspective subjected to legal requirements. The values that should govern health professional practice from a bioethical perspective are "non maleficence", "justice", "beneficence" and "autonomy", substrate of the principles of voluntariness, information and autonomy that governing doctor-patient relationship. Obtaining informed consent requires the preservation of the necessary decision making capacity, meaning the cognitive, volitional and emotional fitness, allowing the patients understanding their health situation, assess different therapeutic alternatives and deciding voluntarily, without external coercion, with awareness of the benefits and risks that therapeutic recommendation implies, for the subsequent expression of the decision, whether verbal o not. It is what is known as the decision making capacity. The health professionals, specifically linked to the world of mental health, play an important and decisive role and activity in determining the ability of the patient to make decisions, adjusting the legal framework. The law collects that a patient is able to give informed consent when having sufficient understanding and volition enough, without in the legal system are collected objective criteria in order or assessment practices of those concepts...
Description
Tesis inédita de la Universidad Complutense de Madrid, Facultad de Medicina, Departamento de Psiquiatría, leída el 08-02-2016
Collections