Publication:
A reassessment of Arundian–Holkerian (Viséan) carbonates in South Cumbria, UK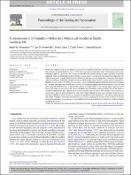 Advisors (or tutors)
Editors
Abstract
Despite the importance of south Cumbrian sections for the Arundian–Holkerian (mid Viséan) boundary, beyond the stratotype proposed at Barker Scar in 1976, little else is known regionally about this boundary and its relationship to adjacent formations. We re-evaluate the Dalton Formation, making its upper and lower boundaries regionally more consistent and precisely-defined, in good quality outcrops with associated biostratigraphy. The Dalton Formation is formally divided into the Blackstone Member and overlying Raven's Member. Rich foraminiferal assemblages of the Cf4δ subzone are recognised in the Blackstone Member and the lower to mid Raven's Member in nine sections. The Cf4γ–Cf4δ boundary is recognised in the underlying Red Hill Limestone Formation in 3 sections. The upper part of the Raven's Member shows the first appearance of taxa assigned to the Cf5α and Cf5β subzones of the Holkerian in three of the sections. Bentonitic shales in the mid and upper-most part of the Raven's Member were evaluated for zircon and apatite geochronology, although only 4 out of 504 analyses yielded Carboniferous ages, indicating an almost entirely detrital source. This detritus was northerly or northeasterly-derived and predominantly from the Southern Uplands Terrane with subsidiary input from the Lewisian Complex or eastern Greenland sources. Petrographic analysis identified 13 microfacies indicating that the Dalton Formation represents the inner to outer part of a southward inclined shelf, in which east–west changes in microfacies were generated by synsedimentary faulting inherited from northwest–southeast aligned basement structures.
Collections