Publication:
PLACCEA : plaforma [sic] para creación y corrección de ejercicios académicos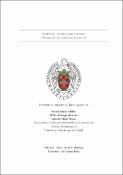 Files
Advisors (or tutors)
Editors
Abstract
Nuestro proyecto tiene como finalidad el desarrollo de una aplicación que constituya una plataforma web de prácticas de programación en Java. El objetivo final es doble. Por un lado facilitar el acceso a estos enunciados por parte de los alumnos así como la entrega de las resoluciones de las prácticas propuestas. Por otro realizar una serie de pruebas de manera automática sobre los programas entregados por los alumnos que proporcionen información valiosa para la corrección de las prácticas y su calificación. Los alumnos podrán consultar en la plataforma web los enunciados de los distintos ejercicios prácticos de la asignatura y podrán entregar dichos ejercicios resueltos, subiendo el código de sus programas desde el navegador web. Cada ejercicio consistirá en el desarrollo de un programa (en Java) que resuelva un problema especificado en el enunciado del mismo. Estos enunciados podrán ser creados por los profesores e incorporados a la plataforma también desde el navegador web. Un profesor podrá definir el enunciado de un nuevo ejercicio práctico así como proporcionar otro tipo de información necesaria para la elaboración de las distintas pruebas, como por ejemplo el código del programa que implementa una solución óptima al problema planteado. También podrán consultar los ejercicios entregados por sus alumnos así como los resultados y estadísticas obtenidos tras la ejecución de las pruebas pertinentes. Para cada enunciado se podrá escoger un conjunto de pruebas a realizar de entre las que el sistema ofrezca. Contará con pruebas de estructura, robustez, corrección y eficiencia. A lo largo de este documento se presentará de una manera detallada el sistema informático construido para alcanzar el objetivo aquí planteado. [ABSTRACT] Our project aims to achive the development of a web platform for Java programming exercises. We have double goal: help student access to exercise's statement and result delivering, and the execution of automatic test series over the exercices delivered for the students that provide some value information for exercise's correction and calification. Students will be able to consult the exercise's statements of different practice task from the subject and deliver that task's solution, uploading their source code using web browser. Each task consist in the development of the code (in Java) that resolves the specifict problem from the statement. These statements would be created by the teachers and uploaded to the platform with web browser too. Teachers would define the statement of a new practice task and provide any kind of information needed for the development of the distint test, for example, the code that implements an optimal solution to the given problem. Teachers also would consult the exercises uploaded by the students, their results and statics obtained from executing the required tests. Each statement would be chosen for a set of test from any the system could offer. These test will contain structure, sturdiness, correction and performance tests. Along this paper we will present in a detailed way the computer system built to achieve the goal presented here.
Description
Proyecto de Sistemas Informáticos (Facultad de Informática, Curso 2011-2012)
Collections