Publication:
Theoretical analysis of inter-observer variability in the determination of luminance thresholds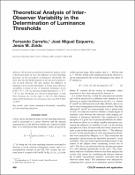 Advisors (or tutors)
Editors
Abstract
We present an analytical method to analyze, from a theoretical point of view, the influence of color-matching functions on the perception of luminance thresholds. We show that the thresholds depend on the spectral responsivities of each observer. We also analyze the influence of luminance level on the thresholds: a strong inter-observer variability is found at low or moderate luminance levels (0.02 < Y < 1 ft-L) whereas at high intensities (1 < Y < 7 ft-L) the thresholds are observer-independent.
Description
Issue online:20 October 2006; Version of record online: 20 October 2006; Manuscript Accepted: 17 March 2006; Manuscript Revised: 11 February 2006; Manuscript Received: 22 December 2004
Collections