Publication:
Logopedia Lúdica : actividades de logopedia para niños usando la tecnología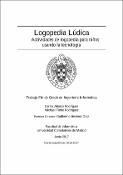 Advisors (or tutors)
Editors
Abstract
Esta memoria describe el diseño e implementación seguidos para la creación de una aplicación que permite acercar la tecnología a los niños con trastornos tratados por la logopedia y así poder realizar las actividades en distintos dispositivos en lugar de hacerlas en papel, permitiendo a su vez facilitar al logopeda el tratamiento de los trastornos verbales o de atención de sus alumnos.
This memory describes the design and implementation followed to create an application that allows to move close the technology to the child with disorders that speech therapist treat and allowing to them to make activities in different devices instead on paper. At the same time, it makes easier the work of the speech therapist in the treatment of verbal and attention disorders of their students.
Description
Trabajo de Fin de Grado en Ingeniería Informática (Universidad Complutense, Facultad de Informática, curso 2016/2017)