Publication:
Perfil de la infección nosocomial en los pacientes con cardiopatía aguda ingresados en las UCI españolas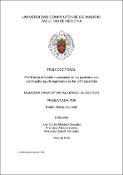 Files
Authors
Advisors (or tutors)
Catalán González, Mercedes
Editors
Publisher
Universidad Complutense de Madrid
Abstract
Las infecciones relacionadas con la asistencia sanitaria (IRAS), especialmente aquellas asociadas a dispositivos invasivos, como son la bacteriemia primaria (BP), la neumonía asociada a la ventilación mecánica (NAVM) y la infección del tracto urinario asociada a sonda uretral (ITU-SU) tienen una importante repercusión sobre la estancia y la mortalidad en los pacientes ingresados en las unidades de cuidados intensivos (UCI). Los procesoscardiacos agudos son una causa frecuente de ingreso de pacientes en las UCI españolas, con cifras próximás al 20% según los informes anuales del registro ENVIN-HELICS. Estos pacientes han sido considerados como pacientes del bajo riesgo para el desarrollo de IRAS, fundamentalmente por la menor necesidad de dispositivos invasivos y por la más rápida resolución de su cuadro clínico,especialmente desde que las técnicas intervencionistas se han generalizado. A pesar de los indudables avances en esta área, la literatura científica ha puesto en evidencia una incidencia creciente de complicaciones no estrictamente cardiacas en los pacientes cardiológicos agudos ingresados en UCI y que incluye las IRAS adquiridas en la UCI. Sin embargo, existe una gran variabilidad en la incidencia de IRAS intra-UCI declaradas en estos pacientes dependiendo de que se tengan en cuenta las distintas categorías diagnósticas, las características del registro o del estudio clínico y del momento histórico en el que se realizó...
The hospital acquired infections (HAIs), especially those associated with invasive devices, such as bloodstream infections (BSI), ventilator associated pneumonia (VAP), and urinary tract infection (UTI), have an important impact on the length of stay and mortality in patients admitted to the intensive care units (ICU). Acute cardiac processes are a frequent cause of admission of patients in Spanish ICUs, about 20% according to the annual reports of the ENVIN-HELICS registry. These patients have been considered as low risk patients for the development of HAIs, mainly due to the lower need for invasive devices and for the faster resolution of their clinical picture, especially since interventional techniques have become widespread. Despite the undoubted advances in this area, different publications in the scientific literature showed that patients with acute cardiac processes developed more frequently non-cardiac complications such as renal failure with need for extrarenal depuration techniques, acute respiratory failure with need for mechanical ventilation or HAIs. However, there is a great variability in the incidence of ICU HAIs reported in these patients depending on whether the different diagnostic categories are considered, the characteristics of the registry or the clinical study and the historical moment in which it was performed...
Description
Tesis de la Universidad Complutense de Madrid, Facultad de Medicina, Departamento de Cirugía, leída el 14-12-2018
Collections