Publication:
Estudio comparativo entre el tamaño dentario en niños nacidos en condiciones de prematuridad y niños nacidos a término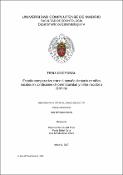 Files
Authors
Advisors (or tutors)
Editors
Publisher
Universidad Complutense de Madrid
Abstract
La odontogénesis es el proceso embrionario en el cual se produce el desarrollo dentario. Muchos factores puede afectar a dicho proceso, dejando secuelas microscópicas o macroscópicas de forma permanente en el diente. Por ello, para que el desarrollo de la dentición sea correcto, son necesarias unas buenas condiciones nutricionales prenatales y cuidados médicos durante el embarazo, aunque hay autores que no consideran tan relevante las influencias externas en la maduración dentaria. En el momento del nacimiento (40 semanas de gestación), la mineralización de los incisivos temporales está prácticamente completada, y ha comenzado ya la del resto de dientes temporales. La corona de los caninos presenta calcificación hasta el tercio medio de su corona, la cara oclusal de los 1º molares está calcificada, y las cúspides de los 2º molares están en mitad del proceso de formación y se encuentran aisladas. La mineralización de la dentición temporal se completa alrededor de los 12 meses de edad tras un periodo de gestación normal (37-40 semanas)...
According to the World Health Organization (WHO) definition, a delivery is preterm when it occurs before 37th completed week of pregnancy. It may be associated with a birthweight below 2500 g. The incidence of preterm birth varies widely among different populations and is generally correlated with differences in living conditions between the developing and the developed countries. The survival rate of preterm infants is upper 95% for those with a birthweight between 2000-2500g, but it is estimated around 50% in very low birthweight child (700-800g). With increasing sophistication of neonatal care in recent years, the prognosis of survival of the most preterm children has improved dramatically. Improved survival, however, has not been accompanied by corresponding decreases in major neonatal morbidities in these children. The odontogenesis is the embrionic process by which dental development happens. Multiple factors may affect such process, leaving micro or macroscopic consequences in the tooth permanently. Therefore for a correct development of the dentition, appropriate nutritional pre-birth conditions and medical care during pregnancy are required, although some researchers do not give that much importance to external influences in the dental maturation process...
Description
Tesis inédita de la Universidad Complutense de Madrid de la Facultad de Odontología del Departamento de Estomatología IV, leída el 4-03-2016
Collections