Publication:
Relación entre parámetros antropométricos y riesgo cardiovascular estimado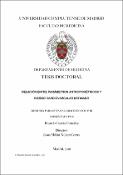 Files
Authors
Advisors (or tutors)
Editors
Publisher
Universidad Complutense de Madrid
Abstract
La obesidad es un factor de riesgo independiente para el desarrollo de enfermedad cardiovascular, la principal causa de muerte en los países industrializados. Para estimar el riesgo de un primer evento vascular se han diseñado funciones con base a datos de distintas poblaciones. Se ha estudiado el impacto de la obesidad sobre la probabilidad calculada por las 4 ecuaciones más utilizadas (Framingham, Regicor, Score and Dorica), en la práctica clínica general. MÉTODOS: Se ha realizado un estudio epidemiológico con 494 participantes mayores de 18 años sin historia previa de cardiopatía a los cuales se les midieron parámetros antropométricos básicos y se calcularon los riesgos de evento vascular agudo empleando 4 funciones distintas. Se realizó una regresión logística para evaluar la reestratificación de la probabilidad calculada en función de la biometría. RESULTADOS: Se encontró asociación entre la biometría y el riesgo estimado por las distintas funciones, siendo el del mayor impacto el IMC. La correlación entre la probabilidad de un primer evento cardiovascular, el peso y el IMC osciló entre 0,1 y 0,3. La talla mostró una relación inversa con el riesgo en los grupos de riesgo bajo sin alcanzar significación estadística. El IMC fue el parámetro con mayor influencia aumentando una media de 10% la probabilidad de ser re-estratificado de la categoría de bajo riesgo a una superior. CONCLUSIONES: La biometría, especialmente el IMC, influye sobre la estimación del riesgo vascular según las 4 funciones, incrementándolo de forma modesta pero consistente, habitualmente empleadas para la prevención primaria en la práctica clínica.
Obesity is an independent risk factor for the development of cardiovascular diseases, the main cause of death in industrialized countries. Several functions have been designed based upon data from various populations to estimate the risk of a first cardiovascular disease event. The impact of obesity over the calculated probability has been studied and analyzed using the 4 best known equations (Framingham, Regicor, Score and Dorica), which are the most common equations used in clinical general practice. METHODS: An epidemiologic study has been completed with 494 participants aged over 18 years old, with no previous record of heart disease in their clinical histories. Basic anthropometric parameters were evaluated on these 494 patients with the purpose of calculate the vascular occlusive event by using 4 different functions. A logistic regression was obtained to evaluate the re-stratification of the calculated probability as a function of the biometry. RESULTS: An association in between the biometry and the estimated risk with the 4 evaluated functions was found, obtaining the IMC the parameter with major impact. The correlation between the probability of a first cardiovascular disease event, the body weight and the IMC ranged from 0,1 to 0,3. The height showed an inverse relationship with the risk for groups with low risk, although this association did not reach a statistically significant correlation. The IMC was the parameter with the higher influence in the study, increasing approximately a 10% the like hood of being restratificated from a low risk to a upper risk category. CONCLUSIONS: The biometry, and specially the IMC, influence on the estimation of vascular risk in accordance with the 4 equations (Framingham, Regicor, Score and Dorica) which are normally used for primary prevention of cardiovascular disease in clinical general practice, gradually increasing the vascular risk, namely biometry and IMC show a proportional and consistent association with the vascular risk.
Description
Tesis inédita de la Universidad Complutense de Madrid, Facultad de Medicina, Departamento de Medicina, leída el 05-07-2017
Collections