Publication:
Periodismo con datos no es igual que Periodismo de datos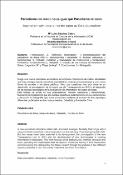 Advisors (or tutors)
Editors
Abstract
Surge una nueva disciplina periodística denominada Periodismo de Datos. Modalidad que trae consigo nuevas narrativas periodísticas, nuevas presentaciones y una nueva forma de acceder a los datos públicos. Pero dos cuestiones han sido clave en su desarrollo: la promulgación de la nueva Ley de Transparencia en 2013 y el desarrollo de las nuevas tecnologías en la localización de información en bases de datos. Este trabajo se centra en sus antecedentes, método, estructura y herramientas, buscando la implantación que los medios españoles están teniendo en sus redacciones y descubrir la radiografía que estos presentan mediante el análisis de dos reportajes diferentes publicados en dos nuevos medios: Datadista y Fundación Civio.
A new journalistic discipline called Data Journalist emerges. Modality that brings with it new journalistic narratives, new presentations and a new way of accessing to public data. But two issues have been essential to its development: the promulgation of the new Transparency Law in 2013 and the development of new technologies in locating information in databases. This work focuses on its backgrounds, method, structure and tools, searching the implantation that the Spanish media are having in their newsrooms and discovering the radiography that these present through the analysis of two different reports published in two new media: Datadista and Civio Foundation.
Description
Estudio del desarrollo y comparación del periodismo de datos en España.
Collections