Publication:
El esperpento a través del espejo romántico: tradición grotesca y deformación sentimental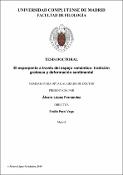 Files
Authors
Advisors (or tutors)
Editors
Publisher
Universidad Complutense de Madrid
Abstract
En los últimos años la crítica académica no ha dejado de acompañar a la obra de Ramón del Valle-Inclán, extendiendo la cola de una bibliografía prácticamente inabarcable. Analizar esperpentos como Luces de bohemia o Martes de Carnaval supone enfrentarse a clásicos, con el riesgo que ello comporta. No en vano, como apuntaba Italo Calvino: «toda relectura de un clásico es una lectura de descubrimiento». En este sentido, la (re)lectura que aquí se propone pretende descubrir las intrincadas pero profundas relaciones que median entre el esperpento y lo romántico, con el fin de reabrir y reorientar, aunque sea por un momento, el debate en torno a la singularidad del ejercicio esperpéntico. Al hilo de esto, el grueso de la bibliografía reciente sobre Valle-Inclán ha insistido o bien en la asimilación del expresionismo contemporáneo que supuso la estética final del autor o bien en su carácter de portavoz nacional de una revolución dramática de raíces europeas. Sin negar los resultados de esta proyección expresionista continuada –que tanto ha ayudado a difundir al escritor fuera de nuestras fronteras–, llama la atención el escaso número de estudios monográficos, y hasta de estudios parciales, que han cotejado el esperpento con otras muestras anteriores de la tradición hispánica. Más si cabe cuando el propio Valle-Inclán esbozó esta dirección en boca de un moribundo Max Estrella, alter ego del escritor, en Luces de bohemia: «Los ultraístas son unos farsantes. El esperpentismo lo ha inventado Goya», pintor considerado por el gallego como «El gran mito del Romanticismo». Objetivos y síntesis: Por todo ello, esta investigación aspira a calibrar la originalidad, influencia e importancia que tuvo el ejercicio esperpéntico en la tradición grotesca hispánica desde el Romanticismo hasta la superación del neorromanticismo de los años treinta y albores de los cuarenta...
In the last few years, academic criticism has not stopped accompanying the work of Ramón del Valle-Inclán, extending the length of a virtually impracticable bibliography. Analyzing esperpentos such as Luces de bohemia or Martes de Carnaval means facing classics, with the risk that this involves. However, as Italo Calvino pointed out: "any rereading of a classic is a reading of discovery." In this sense, the (re)reading proposed here aims to discover the intricate but profound relation in between the horrific and the romantic, with the objective of reopening and reorienting, at least for a moment, the debate around the singularity of the exercise of esperpento. In line with this, the majority of the recent bibliography on Valle-Inclán has insisted either in the adaptation to contemporary expressionism that meant the author's final aesthetic or in his national spokesperson's temper for a dramatic revolution of European roots. Without denying the results of this ongoing expressionist projection –which has been so useful when spreading the author outside Spain–, it is surprising the small amount of monographic studies, and even partial studies, which have compared esperpento with other previous samples of Hispanic tradition. Even more shocking is when Valle-Inclán himself put this in the mouth of a dying Max Estrella, alter ego of the writer, in Luces de bohemia: "Ultraists are imposters. Esperpento has been invented by Goya", a painter considered by the Galician author as "the greatest myth of Romanticism". Objectives and synthesis: For all these reasons, the objective of this research is to measure the originality, influence and importance of the exercise of the esperpento in Hispanic grotesque tradition from Romanticism to the overcome of neo-Romanticism of the thirties and early forties...
Description
Tesis inédita de la Universidad Complutense de Madrid, Facultad de Filología, leída el 08/11/2019
Collections