Publication:
Evaluación de las diferencias terapéuticas entre los pacientes ancianos y los muy ancianos con insuficiencia cardíaca en una unidad geriátrica de agudos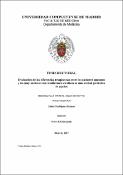 Files
Authors
Advisors (or tutors)
Editors
Publisher
Universidad Complutense de Madrid
Abstract
La insuficiencia cardiaca (IC), es un estado fisiopatológico estructural o de función en el que el corazón es incapaz de bombear sangre en proporción suficiente para satisfacer los requerimientos metabólicos de los tejidos. El anciano presenta unas características fisiológicas que lo diferencias del adulto no anciano. La IC se clasifica en la actualidad en función de la fracción de eyección del ventrículo izquierdo. Esta puede estar reducida o preservada. La mayor evidencia en términos de morbilidad y mortalidad en la actualidad se tiene sobre la IC con fracción de eyección reducida. Sin embargo, en los pacientes ancianos predomina la IC con fracción de eyección preservada, dónde la evidencia es menor, y el manejo farmacológico no es idéntico al de los pacientes. En este estudio se compara el tratamiento terapéutico entre ancianos (edad media 81,36, grupo A) y muy ancianos (edad media 90,94 años, grupo B). Además de los fármacos totales, se realiza un estudio de los fármacos relacionados con la IC que se detallan en el anexo 1 del texto. A pesar que en ambos grupos existe una tendencia a aumentar el tratamiento farmacológico durante el ingreso, si se comparan ambos grupos, el grupo B presenta menos fármacos tanto al ingreso como al alta que el grupo A. Este resultado también se observa en los fármacos relacionados con la IC. Si analizamos los fármacos de primera línea (IECA / ARAII, BB, ARM), en el grupo B se prescriben menos fármacos tanto al ingreso como al alta. Si contamos fármacos de primera línea sin BB y diuréticos de las tres clases estudiadas, se prescriben menos fármacos al alta en el grupo B. Se observa por tanto una tendencia a una menor prescripción en el grupo B y a un menor cumplimiento de las guías clínicas. Se analizan posteriormente si estos resultados se modifican con algunos de los objetivos más relevantes en ancianos, como son la comorbilidad, el deterioro funcional, el reingreso y la mortalidad, además de la fracción de eyección. No hubo relación con el éxitus y consumo de fármacos. Los fármacos de primera línea y BB se prescriben menos con FEVI menor de 50. En una regresión logística múltiple se asocian los fármacos al alta con el grupo de edad y el deterioro funcional, pero no con el índice de comorbilidad de Charlson.
Heart failure (HF) is a structural feature or pathophysiological state in which the heart is unable to pump blood in sufficient amount to satisfy the metabolic requirements of tissues. Elderly presents physiological differences in comparison to an adult. The HF is currently classified according to the ejection fraction of the left ventricle. This can be reduced or preserved. Most evidence in terms of morbidity and mortality currently is on HF with reduced ejection fraction. However, in elderly patients, predominant HF is as the expense of preserved ejection fraction HF, where the evidence is more poor, and the pharmacological management is not identical to the reduced eyection fraction HF patients. In this study the therapeutic treatment among elderly (mean age 81.36, group A) and very elderly patients (mean age 90.94 years, group B) is compared. In addition to the total drugs, a study of drugs related to HF is evaluated as detailed in Annex 1. Although in both groups there is a tendency to increase drug treatment during hospitalization, the B group has fewer drugs at admission and discharge than the group A (i total drugs and in HF related drugs). If we analyze the first-line drugs (ACEI / ARB, BB, ARM), in group B fewer drugs at admission and discharge are prescribed. If first-line drugs (without BB) and diuretics of the three classes studied, fewer drugs are prescribed at discharge in group B. It is observed therefore a tendency to lower prescription in Group B and a lower compliance of the guidelines. They are then analyzed whether these results are modified with some of the most important objectives in the elderly, such as comorbidity, functional impairment, readmission and mortality, in addition to the ejection fraction. There was no relationship with mortality and consumption of drugs. The first-line drugs and BB are prescribed less in LVEF less than 50. In a multiple logistic regression drugs at discharge was associated with age group and functional impairment, but not with the Charlson comorbidity index.
Description
Tesis inédita de la Universidad Complutense de Madrid, Facultad de Medicina, Departamento de Medicina, leída el 05-02-2016
Collections