Publication:
Desarrollo preclínico del VCE-003.2: un nuevo derivado cannabinoide con potencial neuroprotector y neurogénico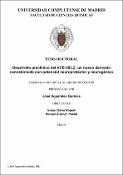 Files
Authors
Advisors (or tutors)
Editors
Publisher
Universidad Complutense de Madrid
Abstract
La enfermedad de Huntington es una enfermedad neurodegenerativa de carácter hereditario y se caracteriza por una neurodegeneración del estriado que termina por alcanzar otras estructuras en etapas avanzadas (Lee, Conrad, et al. 2018a). La atrofia neuronal se debe a un aumento de tripletes CAG localizados en el exón 1 del gen de la huntingtina. Esta mutación conduce a una expansión anómala de poliglutaminas en el extremo N-terminal de la huntingtina que produce una agregación y una alteración en la función normal de la proteína (Becher et al. 1998). En la actualidad únicamente existen tratamientos paliativos para combatir la enfermedad. El hecho de que no existan aún terapias efectivas para tratar la enfermedad se debe, entre otras razones, al amplio conjunto de procesos celulares y fisiológicos en los que participa la huntingtina y que se ven alterados por sus mutaciones patológicas. Dado que la deleción del gen del receptor CB1 ha resultado ser un factor determinante en la progresión de la enfermedad de Huntington, se ha propuesto que el sistema endocannabinoide desempeña un papel crítico en la enfermedad. Esto ha abierto la puerta a posibles terapias basadas en agonistas del receptor CB1 como el THC, y de hecho así lo ha demostrado su administración en modelos preclínicos de la enfermedad, siendo capaz de ejercer un efecto neuroprotector (Blázquez et al. 2011). No obstante, la disminución de los niveles del receptor en estadios tempranos de la enfermedad y los efectos psicotomiméticos asociados a la activación del receptor han puesto de manifiesto la dificultad de un tratamiento prolongado a través de esta vía...
Huntington's disease is a neurodegenerative and hereditary disease characterized by a striatal atrophy that later affects other brain structures (Lee, Conrad, et al. 2018a). Neuronal atrophy is produced by an abnormal expansion of CAG repeats located in exon 1 of the huntingtin gene. This mutation enhances an expansion of poliglutamines in the N-terminal region of the huntingtin protein, which produces protein aggregation and dysfunction (Becher et al. 1998). Nowadays there are only palliative treatments against Huntington's disease. The absence of effective treatments against this disorder is mainly related with the wide amount of processes altered by mutant huntingtin. Downregulation of CB1 receptors may be an important factor in Huntington's disease progression. The relevance of cannabinoids offers an interesting alternative in exploring new therapies based on CB1 receptor agonism. Administration of THC in preclinical models of Huntington's disease has demostrated a neuroprotective effect through CB1 agonism (Blázquez et al. 2011). Nevertheless, the downregulation of CB1 receptors in the early stages of the disease and the psychotomimetic effects associated to CB1 receptor agonism have highlighted the difficulty of prolonged treatments through this pathway...
Description
Tesis inédita de la Universidad Complutense de Madrid, Facultad de Ciencias Químicas, leída el 28/01/2021
Collections