Publication:
Camilo José Cela y su presencia en otros autores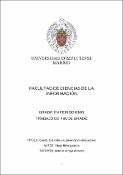 Authors
Advisors (or tutors)
Editors
Abstract
Este trabajo trata sobre Camilo José Cela, uno de los novelistas españoles más importantes, y su presencia en otros autores. Cela tuvo la influencia de Pío Baroja, Benito Pérez Galdós o Truman Capote a la hora de escribir. De ellos recrea el gusto por plasmar la realidad de una manera muy directa o el gusto por las descripciones. Sin embargo, Cela crea e introduce el tremendismo como tendencia literaria de la postguerra. Este y el propio autor influyen en nuevos escritores como Jesús Carrasco, creador de Intemperie, o Julio Llamazares, periodista que recoge el testigo del novelista gallego como escritor de viajes. Sin embargo, nadie ha podido seguir los pasos de Camilo José Cela como periodista. Tuvo un estilo muy concreto y muy difícil de recrear.
This Project deals with Camilo José Cela, one of the most important Spanish writers, and his presence in other authors. Cela had the influence of Pío Baroja, Benito Pérez Galdós or Truman Capote at the time of writing. From them he took the way to capture reality or the point of descriptions. However, Cela created and introduced "tremendismo" as a literary tendency of the postwar period. He influenced new writers such as Jesús Carrascoor Julio Llamazares. However anyone has been able to follow his style as journalist. He had a very concrete style, which is very difficult to recreate.