Publication:
New insights on Cricetodontini (Rodentia, Mammalia) from the Duero Basin, Spain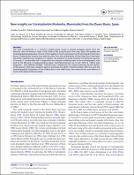 Advisors (or tutors)
Editors
Abstract
The tribe Cricetodontini is a common cricetid group found in several European basins from the Miocene. Here we present a study of the fossils of this group found in the Duero Basin. We updated the biostratigraphical assignation of some of the localities in which several species of Cricetodontini have been found. Cricetodontini demains from eight localities from the central sector of the Duero Basin have been described, measured and assigned to a species. The presence in these localities of Hispanomys aguirrei, H. lavocati, H. nombrevillae and H. aragonensis has allowed correlating them to the biostratigraphic scalebuilt for the Miocene in Calatayud-Daroca Basin, identifying biozones G3, H and I (MN7/8 – MN10, LateAragonian – Early Vallesian, Middle – Late Miocene). Furthermore, this study constitutes the first citatio nof this species in this basin, except H. aguirrei, previously described in the Duero Basin. After this work, thebiostratigraphical assignation of the studied sites is now well known. We evidenced the resemblance of Duero and Calatayud-Daroca basins.
Collections