Publication:
E-EDD: integración en Eclipse del depurador declarativo para Erlang EDD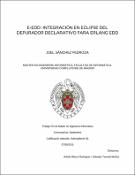 Authors
Advisors (or tutors)
Editors
Abstract
El presente trabajo tiene como finalidad el proporcionar una interfaz de depuración declarativa de fácil uso e interacción para programadores Erlang. La idea viene promovida por el desarrollo inicial del proyecto Erlang Declarative Debugging (EDD) a cargo de Rafael Caballero, Enrique Martín-Martín, Adrián Riesco y Salvador Tamarit, quienes llevan tiempo trabajando en la investigación y la implementación de diversas técnicas para la depuración declarativa. Su campo de trabajo es un proyecto que incluye una serie de algoritmos que, en conjunto, ofrecen una herramienta de depuración declarativa para programas Erlang. El presente trabajo tiene, por tanto, el objetivo de enriquecer dicha herramienta, además de intentar una mayor divulgación. Para ello, es necesario conseguir un mayor acercamiento a los desarrolladores y motivarles a hacer uso de la herramienta desde una perspectiva menos abstracta, permitiendo así que su uso pueda estar presente durante las fases de desarrollo. De aquí nace la idea de Eclipse-EDD (E-EDD), un proyecto desarrollado en tecnología Eclipse, que es un IDE de gran aceptación, versatilidad y potencia ya que, mediante el desarrollo de plugins, permite que puedan integrarse extensiones a la herramienta con la finalidad de adaptarla a las necesidades especificas de los usuarios. E-EDD permitirá dar una visión alternativa a los programadores Erlang (en lo que a la depuración se refiere) respecto a la forma de depuración tradicional muy presente en los lenguajes imperativos como el uso de breakpoints, ya que la inspección de variables no tiene sentido en la programación funcional. Por tanto, lo que se ofrece con el presente proyecto es mejorar la usabilidad de EDD mediante una herramienta gráfica que mejore la experiencia del usuario en las arduas labores de depuración declarativa, además de buscar promover su uso y aceptación ofreciendo un entorno simple y amigable.
This paper aims to provide a declarative debugging user interface of easy interaction and use for Erlang programmers. The idea is promoted by the initial development of the Erlang Declarative Debugging (EDD) project by Rafael Caballero, Enrique Martin-Martin, Adrián Riesco, and Salvador Tamarit who have been working in the research and implementation of several techniques for early detection of errors in declarative programming. Their field of work includes a series of algorithms that offer together a declarative debugging tool for Erlang programmers. The main idea of this paper is therefore to enrich this tool, and to increase its disclosure. To achieve these objectives, it is necessary to get closer to developers and encourage them to make use of the tool from a less abstract perspective, allowing its use may be present during the development stages. The Eclipse-EDD (E-EDD) project that was born from these ideas is developed under Eclipse technology, a widely accepted IDE, versatile, and powerful, because developing plugins with their respective extension points which allows to customize the tool to the specific needs of users. E-EDD gives an alternative vision to Erlang programmers (regarding debugging) over the traditional debugging way very present in imperative languages, such as using breakpoints, where inspecting variable makes no sense in functional programming. Therefore, this project improves the usability of EDD with a graphical tool that enhances the user experience in the arduous task of declarative debugging, and seek to promote their use and acceptance by offering a simple and friendly environment.
Description
Máster en Ingeniería Informática, Facultad de Informática, Departamento de Sistemas Informáticos y Computación, curso 2014-2015