Publication:
Understanding A-type supergiants - II. Atmospheric parameters and rotational velocities of galactic A-type supergiants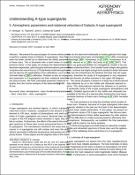 Advisors (or tutors)
Editors
Abstract
We present the second paper of a series whose aim is to perform a global study of Galactic A-supergiants. Very little work has been carried out to determine the stellar parameters of these stars. This is illustrated with a brief review of some previous works. In this paper we analyze the determination of absolute magnitudes, spectral types and atmospheric parameters using the most recent Kurucz LTE blanketed model atmospheres and we discuss the applicability of the calibrations, such as the Schmidt-Kaler's (1982) calibration. Rotation is also an important parameter in A-supergiants but their rotational velocities are poorly known. We have calculated projected rotational velocities from the Fourier analysis of the observed Mg II (4481 Angstrom) line.
Citation
Arellano Ferro A., Giridhar S., Goswami A., 1991, MNRAS 250, 1 Arellano Ferro A., Mendoza E.E., 1993, AJ 106, 2516 Aydin C., 1972, A&A 19, 369 Blaauw A., 1963, In: Strand K.Aa. (ed.) Basic Astronomical Data. Univ. Chicago Press, Chicago, p. 383 Blackwell D.E., Shallis M.J., 1977, MNRAS 177, 180 Blackwell D.E., Petford A.D., Shallis M.J., 1980, A&A 82, 249 Böhm-Vitense E., 1982, ApJ 191, 255 Bonneau D., Kocchlin L., Oneto J.L., Vakili F., 1981, A&A 103, 28 Bouw G.D., 1981, PASP 93, 45 Boyarchuk A.A., 1959, SvA 3, 748 Bravo Alfaro H., Arellano Ferro A., Schuster W.J., 1997, PASP 109, 958 Burnashev V.I., 1980, Izv. Krym. Astrofiz. Obs. 3, 62 Buser R., Kurucz R.L., 1992, A&A 264, 557 Carrol J.A., 1933a, MNRAS 93, 478 Carrol J.A., 1933b, MNRAS 93, 680 Code A.D., Davis J., Bless R.C., Hanbury Brown R., 1976, ApJ 203, 417 Davenhall A.C., Pettini M., APIG: Absorption Profiles in the Interstellar Gas. A User's Guide, 1990 de Jager C., Mulder P.S., Kondo Y., 1984, A&A 141, 304 Faraggiana R., Gerbaldi M., van't Veer C., Floquet M., 1988, A&A 201, 259 Fitzgerald M.P., 1970, A&A 4, 234 Fitzpatrick E.L., 1987, ApJ 312, 596 Fitzpatrick E.L., Garmany C.D., 1990, ApJ 363, 119 Flower P.J., 1977, A&A 54, 31 Garmany C.D., Stencel R.E., 1992, A&AS 94, 211 Glushneva I.N., Kharitonov A.V.,Knyazeva L.N., ShenavrinV.I., 1992, A&AS 92, 1 Gray D.F., 1992, The Observation and Analysis of Stellar Photospheres. Cambridge Univ. Press Gray D.F., 1975, ApJ 202, 148 Groth H.G., 1961, Z. Astrophys. 51, 321 Herrero A., Lennon D.J., V´ılchez J.M., Kudritzki R.P., Humphreys R.H., 1994, A&A 287, 885 Hill G.M., Walker G.A.H., Yang S., 1986, PASP 98, 1186 Humphreys R.M., 1978, ApJS 38, 309 Humphreys R.M., 1979, ApJ 234, 854 Humphreys R.M., 1980, ApJ 241, 587 Humphreys R.M., Sandage A., 1980, ApJS 44, 319 Humphreys R.M., Massey P., Freedman W.L., 1990, AJ 99, 84 Humphreys R.M., Kudritzki R.P., Groth H.G., 1991, A&A 245, 593 Johnson H.L., 1966, ARA&A, 4, 193 Kaltcheva N.T., Georgiev L.N., 1994, MNRAS 269, 289 Kaufer A., Stahl O., Wolf B., et al., 1996, A&A 305, 887 Krautter J., 1980, A&AS 39, 167 Kurucz R.L., 1979, ApJS 40,1 Kurucz R.L., Peytremann E., 1975, Smithsonian Astrophys., Obs. Spec. Rept., No 362. Lambert D.L., Hinkle K.H., Luck R.E., 1989, ApJ 333, 917 Lobel A., Achmad L., de Jager C., Nieuwenhuijzen H., 1992, A&A 256, 159 McCarthy J.K., Lennon D.J., Venn K.A., et al., 1995, ApJ 455, L135 McCarthy J.K., Kudritzki R.P., Lennon D.J., Venn K.A., Puls J., 1997, ApJ 482, 757 Merrill P., 1925, PASP 37, 272 Mihalas D.M., 1965, ApJS 9, 321 Mullan D.J., 1984, ApJ 283, 303 Nandy K., Schmidt E.C., 1975, ApJ 198, 119 Nieuwenhuijzen H., de Jager C., Cuntz M., 1994, A&A 285, 595 Osmer P.S., 1972, ApJ 171, 393 Parsons S.B., 1964, ApJ 140, 853 Przybylski A., 1969, MNRAS 71, 146 Rosendhal J.D., 1973, ApJ 186, 909 Rosendhal J.D., 1974, ApJ 187, 261 Samedov Z.A., 1993, Astron. Rep. 37, 1 Schaller G., Schaerer D., Meynet G., Maeder A., 1992, A&AS 96, 269 Schmidt-Kaler Th., 1982, Landort-Bornstein, Vol.2, Subvol. b, p. 455, Springer Verlag Slettebak A., Collins G.W., Boyce P.B., White N.M., Parkinson T.D., 1975, ApJS 29, 137 Slowik D.J., Peterson D.M., 1993, AJ 105, 1967 Takeda Y., 1994, PASJ 46, 181 Takeda Y., Takada-Hidai M., 1995, PASJ 47, 169 Talavera A., Gómez de Castro A.I., 1987, A&A 181, 300 Theodossiou, E., Danezis, E., 1991, Ap&SS, 183, 91 Uesugi A., Fukuda I., 1982, Revised Catalogue of Stellar Rotational Velocities. Department of Astronomy, Kyoto Univ., Kyoto, Japan Underhill A.B., Doazan V., 1982, B stars with and without emission lines, NASA SP-456 Venn K., 1995a, ApJS 99, 659 Venn K., 1995b, ApJ 449, 839 Venn K., 1997, In: Howarth I. (ed.) ASP Conf. 131 Vidal C.R., Cooper J., Smith E.W., 1973, ApJS 25, 37 Verdugo E., Talavera A., Gómez de Castro A.I., 1999, A&AS 137, 1 (Paper I) Wade R.A., Rucinski M., 1985, A&AS 60, 471 Walker G.A.H., Millward C.G., 1985, ApJ 289, 669 Wolf B., 1971, A&A 10, 383
Collections